Even though it's a common safety hazard, many people still don't know how to protect themselves against falling adequately. By taking steps to prevent falls from heights, businesses can help ensure the safety of their workers and avoid the costly consequences of workplace injuries.
What is Working at Heights?
The construction industry is one of the most dangerous labour sectors because it often requires working at heights. It can result in accidents, like falls from buildings or onto precariously placed scaffolds and ladders; however, proper safety precautions should always be considered.
There are many different types of high risk construction work that require working frm heights. For example, construction workers often have to work from scaffolding or ladders. Window washers also typically work from heights.
Working at Heights Hazards
The main hazard of working at heights is the fall itself. A fall from a short height can result in serious injuries or death. The higher the fall, the greater the risk. Falls from a height are a leading cause of death and serious injury in Australia. In the past five years, falls from a height accounted for 13% of worker fatalities (122 fatalities).
There are many hazards associated with working at heights. Here are the top five of them:
#1 Slips, trips, and falls
One of the most common hazards associated with working at heights is slips, trips, and falls. These accidents can occur when workers are not using proper equipment or do not follow safety procedures. They happen primarily because of human error but can also be caused by equipment failure. Causes may include:
Cluttered working space
Wet or uneven surfaces
Improper footwear
Uneven flooring
Poorly lit areas
Incorrectly used or defective equipment
Workers not following safety procedures
#2 Falling objects
Falling objects are another hazard associated with working at heights. These accidents can occur when tools or other materials are not adequately secured. They can also occur when workers are not using the proper safety equipment. Causes of falling objects may include:
Tools or materials that are not adequately secured
Workers not using the appropriate safety equipment
Inappropriate storage of materials
Incorrectly placed materials
Lack of warning signs or signals
Unsafe work practices
#3 Collapse of structure
The collapse of a structure is another hazard associated with working at heights. It can occur when a scaffold or other elevated platforms are not properly assembled or when they are not inspected regularly. Causes of a collapse may include:
Inadequate construction
Poorly maintained equipment
Inadequate inspection
Lack of safety precautions
Ignoring warning signs
#4 Electrocution
Electrocution can occur when workers come into contact with power lines or other electrical sources while working at height. This type of fall can be deadly, and workers should take extreme caution to avoid contacting an electrical source while working at height. Electrocution happens mostly because:
Workers come into contact with power lines
Workers come into contact with other electrical sources
Ignoring safety procedures
Lack of training
Inadequate equipment
#5 Unsafe weather conditions
Working in unsafe weather conditions can also be hazardous. High winds, rain, and snow can create dangerous situations for workers. In some cases, the weather can also cause a structure to collapse. Causes of accidents in unsafe weather conditions may include:
Working when there are strong winds
Working in heavy rain or snow
Working in lightning storms
Ignoring weather warnings
Failing to take proper safety precautions
Not using the appropriate safety equipment
Working at heights is a high-risk activity, and employers need to take steps to protect their workers. Falls can occur when workers are not adequately protected, use defective equipment, or fail to follow safety procedures. Employers should ensure that workers are adequately trained to work at heights safely and have the proper equipment. Falls from a height can have serious consequences, so it is essential to take precautions to prevent them.
High-Risk Construction work
Preventing falls from heights is one of the essential tasks for any business or individual that involves work at height. Working over two metres in height is also defined as high-risk construction work and must be managed by the person conducting the business. There are various ways to protect workers from falls, and the most effective approach will vary depending on the specific work environment.
SafetyDocs by SafetyCulture provides safety documentation that covers various topics related to working at heights, including fall protection plans, safe work methods statements, and risk assessment checklists and templates. We have a library of safety documents, such as manuals or checklists for high-risk occupational tasks like working at heights. We ensure your workplace is always up to date with the latest compliance demands and get the guidance you need to manage falls risks.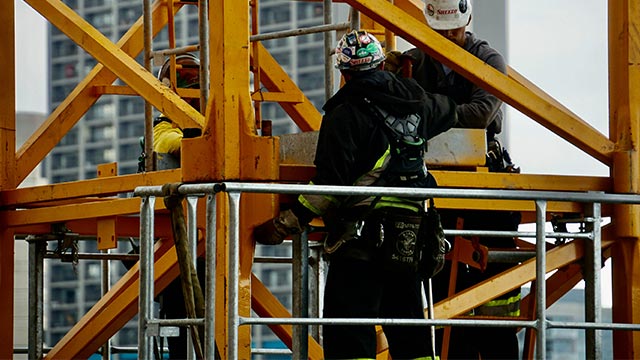 Managing the Risk of Falls
The Code of Practice: How to Manage Work Health and Safety Risks provides guidance on how to manage work health and safety risks by following a risk management process that involves:
Identifying the hazards
Assessing the risks
Implementing risk control measures
Reviewing Risk Control Measures
The first step in managing the risk of falls is to identify any hazards that have the potential to cause injury. Once these hazards have been identified, an assessment of the risks associated with them must be undertaken. If it is determined that the risks are acceptable, then no further action is required.
However, if the risks are considered unacceptable, they must be taken to reduce or eliminate them. These measures may include such things as installing guardrails or installing warning signs. Once the risk control measures have been implemented, they must be regularly reviewed to ensure they remain effective.
I. Identifying the Hazards
It is crucial to identify fall hazards to reduce the risk of falls in the workplace. All work activities must be considered when designing a fall protection system. You must identify all locations and tasks that could cause injury due to a fall, which include:
Fragile surfaces
Unprotected edges
Skylights and roof hatches
Ladders, scaffolds, and stairways
Slopes or slippery elevated platforms
Working over or near plant and machinery
Holes in the ground
To be able to identify hazards, a workplace inspection checklist is helpful in the process of identifying hazards that may cause a fall. A checklist can help you look for key areas like:
Debris or clutter
Uneven flooring
Loose cords or wires
Poor lighting
Poorly maintained equipment
Tripping hazards
Unsafe ladders or scaffolding
Inspections also help check key things like:
Stability, fragility, and capacity of the surface
Condition of the ground
State of any ladders or scaffolding
Strength of any handrails
Adequacy of any safety devices
Browse safety documents from SafetyDocs that are helpful in hazard identification:
II. Assessing the Risks
After you have identified potential fall hazards in the workplace, you need to assess the risks associated with each hazard by conducting a risk assessment. This will help you determine what needs to be done to eliminate or minimise the risks. The assessment should consider:
The likelihood of a fall occurring
The consequences of a fall
The control measures that are currently in place
To assess the risks associated with falls, you need to consider:
How often people are exposed to the hazard
Distance of the fall
Type of surface that people would land on
Whether the fall could be stopped
Likelihood of a fall resulting in a significant injury or death
Checkout safety documents from SafetyDocs that are helpful in risk assessment:
III. Implementing Risk Control Measures
Risk control measures are implemented to eliminate or minimise the risk of falls from working at heights. This may involve the proper use of safety equipment such as harnesses, nets, or guard rails or training workers on safely working at height.
Hierarchy of Control
Control measures can be ranked from the highest level of protection and reliability to the lowest. The WHS Regulations require duty holders to work through the hierarchy of controls when choosing which measure is most effective in eliminating or minimising risk if they have multiple options available for controlling it. This could mean that a single control measure or a combination of two or more is sometimes needed.
If it is not possible to do the work on the ground, there are protection measures you must provide to maintain a safe work system, including:
Fall prevention devices
Work positioning system
Fall arrest system
Administrative controls
Personal Protective Equipment (PPE)
a) Fall Prevention Devices
Fall prevention devices are a must for any business with employees working at heights. These include secure fencing, edge protection and working platforms or covers to prevent falls while in use and will not require any ongoing adjustment once placed. Fall prevention devices include:
Temporary work platforms such as scaffolding, provide a stable work platform for employees and can be erected around the perimeter of a work area. The scaffold must meet specific standards outlined in AS/NZS 4576:1995: Guidelines for scaffolding and the AS/NZS 1576 Scaffolding to ensure that workers are safe while working. Some scaffolds include trestle scaffolds, perimeter scaffolds, and suspended scaffolds.
Safety documents related to scaffolds:
There are also different working platforms, such as platforms supported by forklifts, elevating work platforms, mast climbing work platforms, and workboxes to be suspended from cranes, among others that can be used for safe working at height.
Guard Rails – are commonly used on scaffolds but can also be an effective fall prevention device when installed around the perimeter of a work area. The guard rails should be designed to prevent accidents. The top rail is at least 900 mm to 1100mm high, with mid-rails and toe board also included in this range of heights for safety purposes.
Safety Mesh – safety mesh is a type of netting that can be used to catch someone who falls and is often used in combination with other fall prevention devices. It is made of strong, flexible material that can absorb the impact of a fall and is attached to the structure with support cables. The safety mesh should meet all requirements outlined in AS/NZS 4389:2015.
b) Work Positioning Systems
A work positioning system is another type of fall prevention device used when working at heights. It allows the worker to be supported in a position where they can safely perform their work without the risk of falling. The system includes a body support harness, lanyard, and deceleration device. There are kinds of this system, such as:
Restraint technique – restraint technique restricts a person's movement to prevent a fall. A lanyard connects a harness to an anchoring or horizontal lifeline that stops the wearer from reaching the unprotected edge.
Industrial rope access systems – industrial rope access systems use vertically suspended ropes to access and work at a work face. Although fall arrest devices are employed in industrial rope access systems, the main objective is to get access to a work area.
c) Fall Arrest System
Fall arrest systems are used to stop a worker from falling and reduce the impact of the fall. There are three types of fall arrest systems:
Catch Platforms – a temporary platform placed underneath a work area called a catch platform is used to catch workers who fall. It should be built to bear maximum impact load.
Safety Nets – are placed around the perimeter of a work area to catch workers who fall. They are made of strong, flexible material that can absorb the impact.
Individual fall arrest systems – these systems include fall protection equipment such as body support harnesses, lanyards, anchorages, snap hooks, karabiners, and deceleration devices. Workers using this system must be trained in its safe use and have a responsible attitude to safety.
Vertical anchorage lines or rails – are temporary or permanent fall arrest systems that can protect ladder or tower climbers. These are used on tower cranes and buildings. Industrial fall-arrest systems and equipment must meet AS/NZS 1891.
Double lanyards – A double lanyard is two lanyards that are connected to different anchor points. This system is used when there is a possibility of a fall and provides more excellent protection than a single lanyard.
Checkout safety documents from SafetyDocs that help implement control measures for falls:
d) Administrative Controls
Administrative controls are changes to working procedures or how a job is done to eliminate or reduce exposure to hazards. It's essential to count on administrative controls to support other control measures. Some examples of administrative controls include:
No Go Areas – areas marked off with signs indicating that it is hazardous and should not be accessed.
Permit Systems – restrict access to areas with hazards to only those who are authorised and trained to work in those areas.
Organising and sequencing of work – work should be organised to avoid interference and danger.
Developing working at heights safe work method statements (SWMS) – SWMS document a process for identifying and controlling health and safety risks.
Training – Workers should be trained in hazard identification, Safe Work Method Statements (SWMS), emergency response plans, personal protective equipment (PPE) and fall protection equipment.
Checkout safety documents from SafetyDocs related to administrative controls:
e) Personal Protective Equipment (PPE)
Personal Protective Equipment (PPE) is clothing or equipment workers wear to protect them from hazards. PPE should be used as a last resort when other control measures cannot be implemented. Examples of PPE for fall protection include:
Full body harness
Shock-absorbing lanyard
Self-retracting lifeline
Anchor point
Connecting device
Rope grab
Checkout safety documents from SafetyDocs that are related to PPE: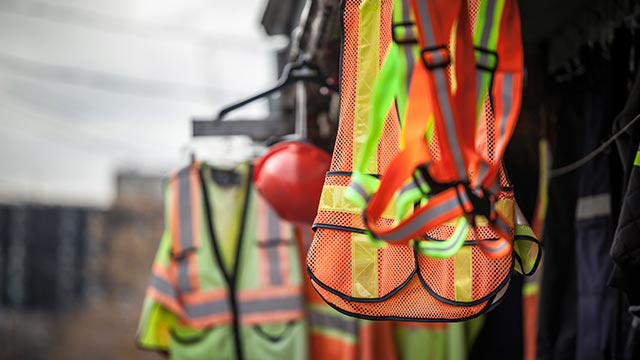 IV. Reviewing Risk Controls
Risk controls must be regularly reviewed and updated to ensure they remain effective. Reviewing risk controls is essential to continuous improvement to check their effectiveness.
How can we ensure that controls continue to be effective?
Supervisors and managers need the authority and resources to maintain control measures effectively. The workplace should have accountability for each other's safety and health.
Plant and equipment must be regularly inspected and maintained to ensure safe operation. Safety checklists help identify potential hazards and maintain equipment.
Workplace policies, procedures, and Safe Work Method Statements should be reviewed regularly and updated. Reviewing these documents helps to ensure that they remain practical and relevant.
Control measures are more effective where fall hazards are found in many workplaces.
Be Equipped for Fall Protection
Falls can occur anywhere in the workplace, not just at height. It's vital that workers are aware of the risks associated with falls and that steps are taken to mitigate those risks. Reviewing work procedures and consulting with workers is essential to keeping everyone safe on the job.
With safety documents at hand, you can ensure that you're taking the necessary steps to protect your workers from falls. SafetyDocs help you create a safer work environment. We are Australia's most trusted provider of workplace health and safety documentation.
Our library of safety documents has everything you need to get started. You also get the following features:
Instant delivery of documents via Email
Integration with Microsoft Office Mobile App
Customisable and editable templates
Pay only once—no subscription is needed
Compliant with Australian and New Zealand's legislations
Browse our catalogue of documents and use them as part of your fall protection measures, and get started on developing a safer workplace for everyone. To learn more about setting a comprehensive safety program for your workplace, contact our Customer Service team today!
---
Available for instant download and supplied in fully editable MS Word format for use in your business.
Please note that the above information is provided as a comment only and should not be relied on as professional, legal or financial advice.
Share This Article