What is Electrical Safety?
Electrical safety is a set of practices that protect people and equipment from electrical hazards. It includes the prevention of electrical shock, fire, and explosion.
There are many potential dangers when working with electricity. Jobs such as electrical engineering, construction, and maintenance all come with a certain amount of risk.
The model Managing electrical risks in the workplace Code of Practice defines electrical work as:
Connecting and disconnecting electricity supply wiring to electrical equipment from equipment.
Installing, removing, adding, testing, replacing, repairing, altering, or maintaining electrical equipment.
The risks associated with electricity are significant and can be fatal. Furthermore, electrical incidents can cause property damage, financial losses, and interruption to operations. All individuals who work with or around electricity must have training in electrical safety.
Electrical Hazards in the Workplace
An electrical hazard can occur when someone comes into contact with electricity. It can happen if a worker touches something directly connected to electricity or something that allows it to flow through them.
Some of the leading electrical hazards are:
Exposed live parts - any electrically live parts that workers can touch. It includes exposed leads, unguarded machinery, power lines, and electrical wiring.
Equipment faults - can happen when equipment is damaged or not maintained properly. It can create sparks or heat, which can lead to fires.
Fire or explosion - happens where there is a potential for an electric spark to ignite a flammable or explosive atmosphere.
The electrical risks are higher in harsh conditions, such as:
Wet surroundings
Areas with flammable liquids, gases, or vapours
Poorly ventilated areas
Cramped spaces
Duty Holders in Managing Electrical Risks
Duty holders are responsible for health and safety in the workplace. They include:
People conducting a business or undertaking (PCBUs)
Designers, manufacturers, importers, and suppliers of plant, substances or structures, employers, and principal contractors
Safety officers.
A PCBU is required to ensure, so far as is reasonably practicable, the health and safety of workers and other people. When managing these risks, the goal is to eliminate them as much as possible. If this is not possible, then the goal is to minimise them as much as possible.
In addition to the duties of employers and other persons in control of workplaces, workers and other persons at the site also have responsibilities under the WHS Act. These include the obligation to take reasonable care for their health and safety at the workplace and to take good care not to affect other persons' health and safety adversely.
Duty holders may also have other legal obligations under Commonwealth, state, or territory electrical safety legislation. For example, they may require an electrical safety management plan or obtain an electrical licence.
Ways to Manage Electrical Risks
From 2019 to 2020, there was a record of twelve electrical deaths from twelve incidents in Australia and New Zealand, which is equivalent to 0.39 deaths per million people (DMP). Eight of the twelve deaths occurred in Australia, while the remaining four occurred in New Zealand.
The number of electrical fatalities has decreased over the past 20 years, with the average number of deaths per million people (DMP) down from 1.79 in 2000 to 2001 to 0.34, meaning the number of deaths is reducing by 0.07 every year.
Rigid management of electrical risks has played a large part in decreasing fatalities. The 'Model Code of Practice: Managing Electrical Hazards in the workplace identifies the following process' as best practice to minimise electrical risks in the workplace:
1. Implementing the risk management process
Any business knows that risks are inherent in even the simplest of operations. The key to mitigating these risks is implementing a risk management process. This process typically consists of the following steps:
Identify hazards
Regulations seek to protect workers from harm by mandating the identification of hazards in the work environment. These directives require that employers take steps to find and assess potential risks to workers, including risks arising from:
physical work environment
equipment and materials
work tasks and processes.
Assess risks
After identifying the hazards, it is essential to assess the risks associated with them. This assessment should consider the following:
the nature of the hazard
the severity of the harm it could cause
the likelihood of it occurring
the frequency of exposure to hazards.
Eliminate risks
After identifying and assessing the risks, the next step is eliminating or minimising them. They may involve:
changing the process
substituting hazardous materials with less dangerous ones
providing personal protective equipment.
Control risks
Some risks are removable, but you can control them. When managing risks, the key is identifying the most effective measures reasonably practicable in the circumstances.
Review control measures
The final step in the risk management process is to review the control measures that have been put in place to ensure they are effective. You must check any necessary changes regularly.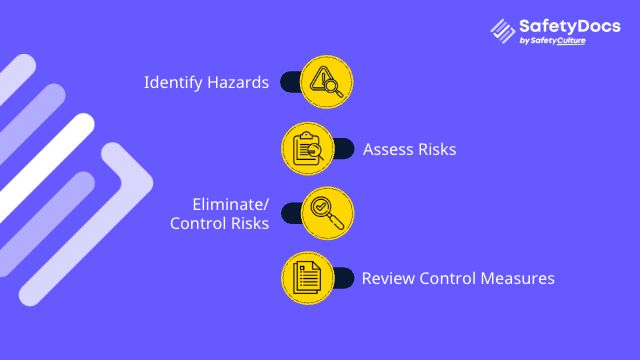 2. Consulting workers and duty holders about safety
You should take the process of managing electrical risks in collaboration with others. Consultation, according to WHS Regulations, is conducted by the PCBU in two ways:
Consulting workers - includes consulting employees, contractors and subcontractors on health and safety matters. These are the people working for the PCBU on a temporary or casual basis.
Consulting other duty holders - the PCBU must consult, cooperate and coordinate activities with all persons with a health and safety duty, so far as is reasonably practicable.
3. Training and supervising workers
Training helps to ensure that workers have the knowledge and skills necessary to work safely with electricity. Some examples of activities are:
induction training
work-specific training
supervisor and management training
refresher training
first-aid training
emergency response training.
4. Applying the hierarchy of control measures
The hierarchy of controls is a system that helps identify the most effective measures reasonably practicable in the circumstances. Eliminating the hazard at the source is the most effective and must be the first aim.
Suppose it is not reasonably practicable to eliminate the hazards and risks associated with electricity. In that case, you must minimise the risk by one or more of the following:
Substitution - use extra-low voltage electrical equipment such as a battery-operated tool
Isolation - disconnect or isolate the electrical equipment from the power source
Engineering controls - use physical barriers, insulations, enclosures or ventilation to control exposure to electricity
Administrative controls - develop and implement policies, procedures, and work practices to minimise exposure to electricity
Personal protective equipment (PPE) - use PPE such as hard hats, gloves, safety footwear, arc flash suits, and respiratory protection to protect workers from exposure.
5. Conducting inspections and testing of electrical equipment
Model regulations mandate the inspection and testing of electrical equipment. While visual inspection can help to identify potential electrical risks, regular testing of electrical equipment is essential to ensure safety in the workplace. Inspections and testing can:
Detect faults and deterioration that may not be immediately apparent
Helps to ensure that electrical equipment is up to standard and fit for purpose.
The frequency of inspection and testing will depend on the following:
the type of electrical equipment
how often is it used
its operating environment
its history of faults or damage.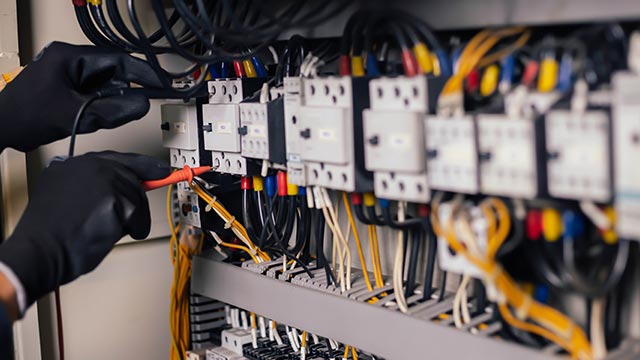 6. Creating a safe system of work for unsafe electrical equipment and electrical installation
The PCBU is responsible for ensuring that any unsafe electrical equipment at the workplace is disconnected from its electricity supply. They include:
Checking the physical condition of the electrical equipment before using it, including limiting the lead and plug connections.
Taking the electrical equipment out of service if there are any signs about its safety. These signs can include damage to the equipment and faulty electrical connections.
7. Ensuring that competent persons carry out inspections and testing of electrical equipment
Regular inspections and testing of electrical installations are essential to ensure safety in the workplace. A competent person should conduct the inspections and tests.
A competent person, according to AS/NZS 3760:2010, is:
a licensed electrician or registered electrical inspector
a person who has completed a structured training course involving visual inspection and a pass-fail testing.
Safety Documentation for Managing Electrical Risks
Several documents can assist with managing electrical risks in the workplace, which are available at SafetyDocs. These include:
Electrical Risk Assessment Checklist
Electrical risk assessments help identify potential electrical hazards and risks in the workplace. You can use the checklist to assess the risks associated with the following:
electrical equipment
electrical installations
work activities
working near overhead powerlines.
Electrical Inspection Checklist
Inspecting electrical equipment and installations is essential to managing electricity risks in the workplace. You can use the electrical inspection checklist check:
electrical equipment
electrical installations
overhead powerlines
switchboards
Electrical Safe Work Method Statement (SWMS)
Working with or near electricity can be dangerous and always carries some risk, no matter how low the voltage is. It is considered a high-risk construction activity, and you must prepare an electrical SWMS before doing any work.
Check out these SWMS for electrical safety:
Electrical Emergency Response Plans
Emergency response plans provide a framework for responding to an electrical incident in the workplace. The plans should be specific to the workplace and consider the type of electrical hazards present.
The plans include the following:
evacuating the building or area
shutting down all non-essential electrical equipment
isolating electrical equipment that is safe to touch
providing first aid during emergencies.
Electrician's Safety Management Plans
Safety management plans (SMPs) will help you meet your legal duties related to electrical safety. It will also help you establish clear responsibilities for electrical safety and identify any potential risks that may occur.
SMPs typically include:
an electrical safety policy and rules
an electrical safety program
electrical safety procedures
guidelines for selecting and using of personal protective equipment (PPE).
Safe Operating Procedures (SOPs) for electrical equipment
Safe operating procedures (SOPs) provide step-by-step instructions on how to work with or near safely electricity. SOPs should be specific to the workplace and the type of electrical equipment used.
Electrical Equipment Register
The equipment register makes it easy to track when each item of equipment was last tested, who did the testing, and what the results were. It helps to ensure that all equipment is kept safe and up-to-date. Using a register eliminates the need for repeated testing of the same item.
Risk Assessment Form
Use this form to assess the risks associated with electrical work. The assessment form template will help you:
identify potential hazards
evaluate electrical risks
determine the controls needed to minimise the risks
develop a safe work procedure.
Complete Your Electrical Safety Program with SafetyDocs
Working with or near electricity needs to be managed carefully to avoid potential injuries or fatalities. Following protocols and guidelines will help to ensure a safe working environment. However, it can take time to keep track of it.
SafetyDocs by SafetyCulture can help you implement an electrical safety program that covers all the bases. We help companies create safe and compliant workplaces and design our safety solutions to assist you with meeting legislative requirements.
We provide content-rich, fully editable documents to help your business save time, costs, and resources. With over 35,000 satisfied customers in Australia and New Zealand, we are confident that we can help you get ahead of the game regarding safety.
Start with the following safety documents for managing electrical activities:
Get in touch with us today to learn more about how we can help you implement.
---
Available for instant download and supplied in fully editable MS Word format for use in your business.
Please note that the above information is provided as a comment only and should not be relied on as professional, legal or financial advice.
Share This Article