What is Warehouse Safety?
Warehouse safety is a critical component of ensuring workers, visitors, and equipment safety and well-being in warehouse environments. At its core, warehouse safety is about reducing the risk of accidents and injuries through proper planning, training, and implementation of safety protocols. Some key aspects of warehouse safety include safe working procedures, maintaining safety equipment, ensuring proper ventilation and lighting in work areas, implementing lockout/tag-out procedures for moving machinery, and providing adequate personal protective equipment for workers.
A traffic management plan (TMP) is one key element of adequate warehouse safety. Heavy machinery, fast-moving traffic, and large quantities of stock can create many hazards in a warehouse. It is vital to have a safety management plan in place to address these risks and keep your employees safe.
Hazards in the Warehouse
In the world of logistics and operations, a warehouse is a critical setting for ensuring the safe delivery of goods to customers. With its large spaces and complex networks of storage racks and machinery, this environment can also be rife with safety hazards that can cause serious injury. The Key Work Health and Safety Statistics reports that Australia's transport, postal, and warehousing industry has the highest fatalities in the reporting range and a fatality rate of 8.7 per 100,000 workers, second only to the agriculture, forestry and fishing industries.
Whether a business owner, manager or an employee working in a warehouse, it is crucial to be aware of the potential hazards in this setting. Some common warehouse safety hazards and risks include:
1. Slips, trips, and falls
Slips, trips, and falls are among the most common causes of warehouse injury and made up 23% of serious claims in 2018–19, with over 23,000 incidents. These incidents are often due to poor housekeeping, cluttered walkways, or wet floors. Ignoring the potential for these hazards can result in injuries to your employees, such as cuts, fractures, and head injuries.
2. Manual handling
With the ever-growing popularity of online shopping, these facilities are responsible for an ever-increasing amount of goods being stored and shipped. Unfortunately, this increase in activity has also increased the number of manual handling injuries. They can range from pain and discomfort to more serious musculoskeletal disorders (MSDs) or herniated discs. There were 41,395 serious claims for body-stressing injuries in 2018-19, making these types of injuries the most common, with 36% of total incidents alone.
3. Forklifts
Warehouses are bustling places where workers constantly move around, organising and transporting products. Forklifts play a significant role in keeping things moving, but they also pose a serious risk to workers. Their purpose is to lift and carry heavy loads, but they can be unstable and hard to control. Forklift operators must be trained and aware of their surroundings to avoid accidents.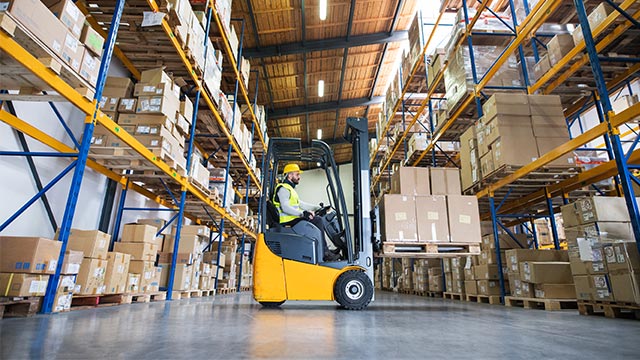 4. Chemical hazards
Warehouses often use and store large quantities of chemicals that, if not properly labelled, stored, and used, can pose a serious risk to workers. These hazardous chemicals can harm workers through skin contact, inhalation, or ingestion. They can minimise the risk by wearing appropriate personal protective equipment (PPE), gloves, goggles, and respirators.
5. Machinery
Some common types of machinery used in warehouses include cranes, conveyor belts, and air compressors. However, these machines can be hazardous if they are not adequately guarded or locked out when not in use. Because industrial accidents can have serious consequences for workers and employers, warehouse managers must ensure that all workers are trained in properly using this equipment and that necessary safety precautions are always followed.
6. Loading and unloading
When loading and unloading goods, it is important to follow best practices to ensure the safety of workers. This includes using proper lifting techniques, such as bending at the knees rather than the waist, wearing protective gear like gloves and goggles, and taking frequent breaks when necessary. Additionally, workers should be wary of potential hazards in the work environment, such as loose cables on the floor or obstacles that could cause tripping. With proper training and attention to detail, loading and unloading goods can be safely accomplished and minimise the risk of injury.
7. Traffic
From the layout and design of the warehouse itself to the operational demands placed on it by its workers, many things can impact traffic flow and lead to accidents and injuries. One important consideration is how trucks, forklifts, and other vehicles move around the warehouse. A poorly planned traffic flow can lead to congestion and collisions, putting workers at unnecessary risk. Walking in an area with heavy machinery poses obvious dangers, so pedestrian pathways should be clearly marked to minimise these risks.
Warehouse Traffic Management
Warehouses are always bustling with activity. There's a constant flow of people and vehicle movements, receiving things and storing them for safekeeping until they're shipped off. Traffic in warehouses includes:
cars
delivery trucks
powered mobile plants like forklifts
pedestrians, like workers and visitors.
Managing traffic effectively in a warehouse requires forethought and planning on multiple levels to keep everyone safe and productive. Traffic management is a system that helps organise, guide, and control traffic. It aims to ensure the safe, orderly, and efficient flow of people and goods.
PCBU Duties in Warehouse Safety
The Workplace Health and Safety (WHS) Act requires any person conducting a business or undertaking (PCBU) to manage and minimise risks to workers' health and safety. This duty extends to taking all reasonably practicable measures to prevent people from being injured by traffic in warehousing and storage operations.
PCBU duties include:
providing information, training, instruction, and supervision to workers
ensuring that all workers are familiar with the traffic rules, safety policies, and procedures for the workplace
supervising workers and ensuring that they are following safety procedures
taking corrective action for unsafe behaviours
investigating vehicle traffic incidents and accidents, and taking action to prevent the recurrence
maintaining safe traffic routes and traffic control
identifying hazards and implementing control measures to minimise or eliminate risks.
Workplace health and safety is not just the responsibility of the employer or the employees. Other people at the workplace, like customers and visitors, also have a role to play in ensuring that the workplace is safe. They must take reasonable care of their health and safety and not adversely affect others.
Critical Areas in Warehouse Traffic Management
PCBUs should implement appropriate traffic control measures, such as the hierarchy of controls:
eliminating the risk
substituting the traffic activity with a less hazardous one
isolating the traffic activity from people
implementing engineering controls such as traffic barriers and traffic lights
providing personal protective equipment (PPE).
Suppose it is not possible to use the hierarchy of controls. In that case, traffic can be managed in warehouses by careful planning and controlling vehicle operations and pedestrian movements. PCBUs must consider the following critical issues for managing traffic in warehouses:
Pedestrian and vehicle safety
Any workplace that involves the use of vehicles presents a potential risk to pedestrians. Eliminating threats to pedestrians by removing vehicles from the workplace must be considered first. When this isn't reasonably practicable, there are still several measures that you can take to protect pedestrians, such as:
establishing physical separation structures like barriers or fences
utilising separate pedestrian doors at vehicle entries and exits,
installing safety railings or bollards to prevent pedestrians from stepping into traffic
implementing engineering controls like interlocked gates, right-of-way policies, and zoning
redesigning the layout of the work area to segregate pedestrian and vehicular traffic.
Pedestrians working with vehicles
When vehicles and pedestrians are required to share the same work area, you must implement traffic management measures to protect pedestrians. To ensure the safety of workers and visitors, you can:
prohibit non-personnel from entering areas where vehicles are moving or being loaded and unloaded
post warning signs to indicate the presence of a mobile-powered plant
instruct workers and visitors to wear proper to wear clothing
designate a safe zone for loading and unloading activities
provide secure access to amenities away from loading areas or other vehicular activities
assign pedestrian walkways and traffic lanes.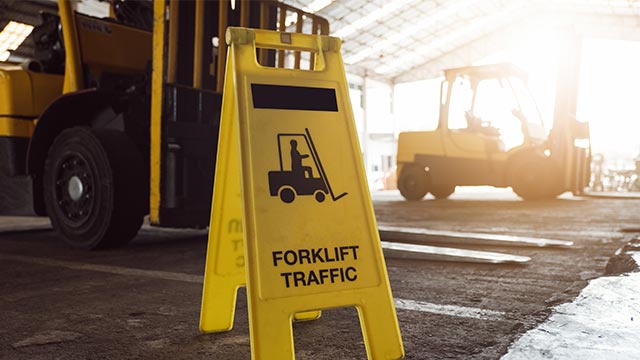 Load-shifting equipment
There are many types of load-shifting equipment, such as forklifts, ride-on pallet movers, walkie stackers, and manual equipment like pallet jacks and trolleys. In warehouses and factories, forklifts are a common type of load-shifting equipment. They are also one of the most hazardous.
Forklifts can pose a serious risk to pedestrians if workers aren't aware of the risks associated with them, which can include:
collisions with pedestrians
tipping forklifts
reversing forklifts
loads falling from forklifts
struck-by injuries from loads or the forks themselves
contact with rotating parts.
To help prevent accidents involving pedestrian and load-shifting equipment, it is essential to:
designate traffic routes for both pedestrians and load-shifting equipment
change the layout of the work area
install safety barriers and fences
implement speed limits, install speed-limiting devices, or implement exclusion zones
provide traffic signs and line markings to indicate traffic routes
restrict the use of mobile phones and other devices while operating load-shifting equipment
ensure that loads are not overhanging the edges
specify loading bays and forklift operating areas.
A person in charge of a workplace must ensure that employees have the proper training, qualifications, or licenses to operate load-shifting equipment. They should check for licensing, capabilities, and fitness for work when hiring contractors.
Site layout
Another critical area to consider is the layout of the workplace. When you don't manage traffic properly, it can lead to congestion and increases the risk of accidents. To help prevent traffic jams and improve traffic flow, it is essential to:
plan traffic routes in advance
implement a one-way traffic system and speed limits
standardise traffic signs and line markings
install physical separation structures like barriers or fences between a parking lot and a pedestrian walkway
use separate pedestrian doors at vehicle entry and exit points.
Warning signals and devices
When traffic is present, it is crucial to have warning devices in place to alert pedestrians and motorists. Warning signals and devices can include:
horns and alarms
flashing lights and high-visibility markings
high-visibility clothing
traffic signals and stop signs
traffic cones, barricades, and traffic drums
mirrors, reversing cameras, and sensors.
Warehouse traffic management plan (TMP)
Traffic management plans (TMP) set out the traffic control measures and procedures to be put in place for a specific event or work activity. It explains how risks will be managed at a warehouse and must be customised to the traffic conditions, site layout, and work undertaken.
A warehouse traffic management plan should address the following details:
movements of vehicles, people, and equipment around the warehouse
designated travel paths for pedestrians, vehicles, and mobile plants
positions of traffic control measures, such as traffic signals
locations of traffic control devices, such as traffic cones and barricades
instructions on controlling traffic during emergencies
instructions on monitoring the effectiveness of a traffic management plan.
roles and responsibilities of traffic controllers.
Safety Documentation for Traffic Management in Warehouses
Maintaining warehouse safety while also keeping productivity high is challenging. A warehouse can be a dangerous workplace, with much activity happening quickly. It's essential to have the tools in place for managing how people will move around the warehouse so that everyone can stay safe and finish their work without any problems.
Here are some safety documents that you need to traffic management in your warehouse:
Risk assessment
Evaluating the risks in your warehouse is the first step in traffic management. It will help you identify traffic hazards and implement measures to control them. You can use a risk assessment form to document the risks in your warehouse and what you're doing to prevent them. Using a risk management plan is also helpful in providing a framework for managing risk associated with warehouse operations.
Warehouse traffic management plans (TMP)
This document sets out the traffic control measures and procedures to be put in place for a specific event or work activity. Utilise a template to assist you in creating a traffic management plan detailed to your warehouse traffic conditions, site layout, and work.
Safe work method statement (SWMS)
An SWMS is a document that outlines the high-risk work activities to be carried out at a warehouse and the control measures in place to minimise the risks. It is a legal requirement for high-risk work, and they must complete it before work begins. You can use a traffic control SWMS to outline the safety measures needed for work activity involving traffic, such as moving vehicles and equipment like forklifts.
Safe operating procedure (SOP)
Warehouse operators must have SOPs that outline the steps for safely conducting traffic-related tasks, such as loading and unloading vehicles. Workers should follow procedures every time a job is carried out, such as operating traffic lights or traffic management equipment.
Induction checklist
All workers, including traffic controllers, forklift operators, or office workers, must be inducted into the traffic management procedures for warehouse safety. You can use an induction checklist to ensure that all workers have been adequately briefed on the traffic management plan and understand their roles and responsibilities.
Plant and equipment register
All traffic control devices and plants, such as vehicles, must be registered and regularly maintained. There are ways to manage them effectively. You can identify what you have, the maintenance schedules, and whether it needs to be registered or licensed using a register. It can help you track the maintenance records and history for all plants and equipment used by your warehouse.
Emergency response plan
The emergency response plan will help you develop a plan for your business so that your workers know what to do in case of an emergency. It includes critical components for managing emergencies in any workplace, such as evacuation communication, emergency evacuation, first aid response, and medical emergency procedures.
Boost your Safety Management with SafetyDocs
Well-designed safety management will further your business by protecting your inventory and workforce. Prevent accidents and disruptions with effective warehouse safety solutions.
Let SafetyDocs by SafetyCulture help you start. We have a wide range of safety document templates that you can choose from, including traffic management plans, safe work method statements, and more.
SafetyDocs empower organisations to take a proactive approach to safety by providing the latest industry-specific content and easy-to-use documents. We can assist you in deciding on the best health and safety measures for making your warehouse safer. Start with checking out these templates for warehousing:
Setting up traffic management in your warehouse doesn't have to be complicated. With the right tools, you can easily create a safe and productive workplace for your workers. Connect with us today to see how we can help you boost your warehouse safety management.
---
Available for instant download and supplied in fully editable MS Word format for use in your business.
Please note that the above information is provided as a comment only and should not be relied on as professional, legal or financial advice.
Share This Article