Getting a handle on workplace safety, standards, and regulations is one of the essential parts of running a business. Having well-defined WHS policies and procedures can help ensure everyone knows their rights, work health and safety responsibilities, and protocols.
What is WHS?
WHS, or Work Health and Safety, is the Australian government's regulatory approach to promoting safe and healthy in workplaces. It involves establishing standards and processes that ensure everyone knows their rights and responsibilities regarding workplace health and safety.
The scope of Work Health and Safety (WHS) is comprehensive. It encompasses all aspects of a business, from the physical work environment to employees' mental and emotional well-being. It includes identifying, assessing, and managing safety risks associated with work activities and taking steps to prevent or control hazards that may cause injury or illness.
WHS laws apply to all organisations, including small businesses, large corporations, and government agencies. These laws and regulations are in place to protect workers and the public from harm. Organisations must comply with these regulations to ensure the safety and health of their employees and others who may be affected by their activities.
What are WHS Policies and Procedures?
When faced with managing the health and safety of their workplace, employers must handle this responsibility seriously. They are ultimately accountable for the well-being of their employees while they are on the job. That is why you must familiarise yourself with your organisations health and safety policies and procedures, and follow them thoroughly.
Let's take a closer look:
WHS Policies and Procedures are written documents that provide guidelines for how a business should handle all safety matters in the workplace. They can be as broad or specific as necessary to ensure everyone is on the same page regarding staying safe while working.
These policies can cover topics like:
Risk assessments and management
Workplace safety standards
Reporting of accidents and injuries
Employee training and education
Emergency preparedness and response
Investigation of incidents
Personal protective equipment (PPE)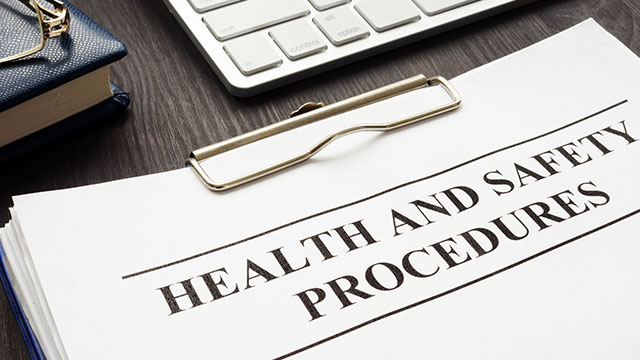 Why Does Your Organisation Need WHS Policies and Procedures?
Having well-defined policies and procedures is essential to keeping a workplace safe and secure. They provide:
Direction on how to identify and address safety issues
When a business has a clearly-defined WHS policy, it serves as an instruction guide for employees to follow to prevent any harm or injury. If a specific workplace hazard is identified as a potential threat, the WHS policy will guide how to address it.
Culture of safety in the workplace
Establishing a culture of safety and accountability is vital for any business, and having dedicated policies and procedures in place can help set the tone. You can further promote safety in the workplace by encouraging staff to follow safety protocols and rewarding them for good behaviour.
Clarity around expectations and responsibilities
They provide everyone within the organisation with a standard of behaviour and expectations. These can also assist in keeping everyone accountable for their actions.
Framework for reporting accidents, injuries, and incidents
Having established policies and procedures in place helps streamline the process of reporting workplace accidents and incidents. This will ensure that employees know the proper channels and protocols to follow in the event of an injury or illness.
Compliance and enforcement
Having a WHS policy helps to ensure that the organisation complies with safety legislation. It also allows for corrective and disciplinary action against anyone not following these procedures.
Improved performance and staff productivity
When safety is a priority in the workplace, it helps to reduce the number of accidents and illnesses that results in lost work time. Your employees will feel more secure and confident in their work environment. They will also be more productive and free to focus on their tasks without worrying about workplace hazards.
Laws Surrounding WHS in Australia
You now know compliance is part of the WHS policy, so it is crucial to understand the legal requirements that must be met. Work Health and Safety (WHS) laws in Australia vary by state and territory. Safe Work Australia is a national policy body responsible for developing and evaluating the model WHS laws, which include the WHS Act, Regulations, and Codes of Practice.
These laws are intended for implementation by all jurisdictions, but they only apply if a jurisdiction has separately adopted them as its own WHS laws. Currently, all jurisdictions in Australia have implemented the model laws except Victoria.
WHS Act
Work Health and Safety (WHS) Act is a set of laws developed by Safe Work Australia that establishes a framework for managing work health and safety. It lays out the responsibilities of employers, employees, or health and safety representatives.
WHS Regulations
Work Health and Safety (WHS) Regulations are guidelines that promote and ensure the health and safety of workers in a particular industry or workplace. They are developed by government agencies or industry organisations and may include risk assessment, emergency preparedness, and training requirements.
Codes of Practice
Codes of Practice are practical guides that provide helpful information on how to comply with the Model Work Health and Safety (WHS) Act and Regulations. These codes are developed by government agencies or industry organisations, providing examples and case studies on specific workplace health and safety topics.
What is the Principal WHS Law in Australia
The various State and territory Work Health and Safety Acts (WHS Act) are the primary WHS law in Australia, established to protect workers from hazards while on the job. It is the legal basis for all businesses to adhere to.
In recent years, the Australian states and territories have undergone a harmonisation process to align their respective WHS laws. This has resulted in a more consistent approach to workplace health and safety across Australia, making it easier for businesses to comply with the law and for workers to understand their rights and responsibilities.
Although Victoria currently stands alone in its approach to WHS law and has not adopted the national model WHS laws, it continues to have its own set of regulations and requirements that is of the same standard. The goal of the state's regulations is to provide the same level of protection for workers as the national model WHS laws, despite the differences in approach.
Why Comply?
Safe Work Method Statements (SWMS) and Management Plans provide Australian businesses and organisations with an essential tool to ensure they comply with their legal obligations of providing a safe working environment for their employees. Failing to meet these obligations can result in severe punishments such as substantial fines, increased liabilities and even jail time in some cases.
Therefore, it is important for employers and entities to adequately assess risks, plan according to WHS laws, document safety policies and procedures, communicate guidelines to all staff members, monitor the implementation of Safe Work Plans, and review Safe Work Plans regularly. By meeting their legal responsibilities, employers not only safeguard their workers from harm but also protect themselves from any potential breaches or costly infractions.
WHS Policies and Procedures Documents from SafetyDocs
Having a set of policies ensures that everyone in the business knows their rights and responsibilities regarding health and safety. To help you in your safety efforts and compliance, SafetyDocs offers a range of health and safety policies and procedures that you can customise to suit your business needs. Here are ten safety documents to help you comply with WHS laws and regulations.
1. Occupational Health & Safety Policy
Occupational Health & Safety Policy states the organisation's commitment to ensuring a safe and healthy workplace for all workers, including contractors and visiting clients and visitors. It also highlights the organisation's legal obligations to Occupational Health & Safety.
2. Personal Protective Equipment (PPE) Policy
The Personal and Protective Equipment Policy (PPE) is an essential component in helping to maintain the health and safety of employees. It provides clear instructions for the issue, use, cleaning, storage and disposal of PPE within an organisation. Additionally, it outlines each employee's responsibility regarding the use of PPE as well as a guidance on setting up a separate PPE register. Following this policy is essential to ensure that employees are properly protected against physical harm and potential illness in the working environment at all times.
3. Bullying Policy
A zero-tolerance policy for bullying in the workplace is critical to maintain a positive, supportive environment in businesses. A bullying policy helps businesses create a culture of respect and understanding, effectively preventing amicable issues from escalating and potentially impacting productivity. Having a clearly established zero-tolerance policy for bullying will create an inclusive, safe workplace atmosphere and instil trust between employees and employers.
4. Emergency Response Plan
The Emergency Response Plan is an essential document for any business, designed to provide comprehensive policies and procedures to help workers in the event of an emergency. It outlines strategies for evacuating a facility, communicating with personnel during emergencies, responding to bomb threats and more. Setting up the plan is easy – it comes with a workspace/facility plan and evacuation plan plus relevant icons to highlight important locations in the workplace such as first aid resources, fire protection equipment and assembly points. By implementing an Emergency Response Plan, you'll satisfy your obligation to have an effective plan in place in order to ensure everyone knows the protocols during an emergency situation.
5. Hazardous manual handling
Manual handling tasks in the workplace, such as lifting, pushing and pulling items, can result in severe and irreversible injuries if not carefully monitored and the risks minimised. This is why this Manual Handling Management manual was created to provide policies and procedures to identify hazardous manual tasks and implement the necessary risk controls to help keep workers safe from harm. Adhering to these procedures enables organisations to ensure that their workplaces are safe while also providing employees with peace of mind.
6. Fitness for Work Plan
This Fitness for Work Plan outlines a strategy and steps to decrease the chance of occurrences resulting from employees being unable to perform their duties safely. Several elements can affect a person's ability to work safely. These elements can often interact with each other to increase the risk of harm. An employee who is unfit for work is not only putting themselves at vulnerable to safety risks but also endangering their colleagues.
7. Workplace Violence Prevention Plan
This Workplace Violence Prevention Plan aims to decrease potential harm from aggressive behaviour in the workplace. It outlines the duties of managers and employees in cases of violence, threats, harassment, or intimidation. The plan serves as a guide for evaluating, analysing, and implementing a strategy to prevent workplace violence.
8. Return to Work Management Policy
This Return to Work Management Policy outlines the procedures for addressing work-related injuries or illnesses. The goal is to bring employees back to work as quickly as possible while providing opportunities for professional growth and development on the job site. It is crucial that all employees returning from an injury or illness not only have a safe workplace but also feel supported and valued by their employer.
9. Forms Kit
This Forms Kit is the answer to having a safe and compliant workplace, with all the documents you need for a successful safety inspection and incident logging. Checklists, forms, and registers will support your procedures and policies. Investing in this kit will be essential for companies looking to adhere to safety guidelines and regulations.
10. Integrated Management systems
An Integrated Health & Safety, Environmental & Quality Management System (HSEQMS) might be what you need to streamline management processes and achieve your objectives more efficiently. This system gives businesses access to all of the policies and procedures they need in one spot, and it also provides the convenience of managing similar processes without duplication. Suitable for even small organisations, this management system has been specifically written in alignment with ISO standards to ensure efficient and effective delivery of services.
Why SafetyDocs?
When it comes to workplace health and safety, having the right documents in place is essential. That's why SafetyDocs by SafetyCulture provides a comprehensive collection of ready-to-use safety documents and templates. These ten templates are up-to-date with the latest regulatory requirements, are readily accessible and will save you time creating the procedural documentation you need for WHS compliance.
In addition, our knowledgeable staff are here to answer any questions or concerns you may have about your safety documentation; don't hesitate to get in touch today.
Alternatively, try our HSEQ document finder now to find what is best suited to your workplace, based on your industry and requirements.
---
Our team of experts is dedicated to providing accurate and informative content. Craig Cruickshank, our senior HSEQ advisor at SafetyDocs by SafetyCulture has reviewed this blog post to ensure the highest level of quality.
Learn more about Craig's work on LinkedIn for more industry insights.
Available for instant download and supplied in fully editable MS Word format for use in your business.
Please note that the above information is provided as a comment only and should not be relied on as professional, legal or financial advice.
Share This Article