The Mosquito Problem in Australia
Along with the long days and beach trips during summer comes something less desirable: mosquitoes. This is mainly due to a changing climate, which has led to more extreme wet weather events. These conditions are ideal for mosquitoes, as they provide the perfect breeding ground for these insects.
Summer in Australia is starting earlier and lasting longer due to climate change, providing more mosquito breeding opportunities.
Mosquito-Borne Diseases in Australia
The most recent and significant threat to emerge is the Japanese encephalitis virus(JEV), first detected in the summer of 2021 to infect pigs. This virus brings concerns as it threatens a greater threat to health.
Japanese Encephalitis Virus (JEV)
Japanese encephalitis virus was once found only in the north of Australia. But recently, wet weather conditions have made it more likely to create an outbreak in the southern states. This virus was not known to exist in SA before February 2022.
JEV is closely related to West Nile, Zika, Murray Valley encephalitis, dengue, and yellow fever viruses. The virus is primarily found in Southeast Asia and the Western Pacific regions and is estimated to cause 68,000 cases yearly.
Prevention and treatment: There is no specific treatment for JEV, which can often lead to hospitalisation. Vaccination is recommended for priority groups and people living in or travelling to risk areas, as the Communicable Diseases Network Australia advised.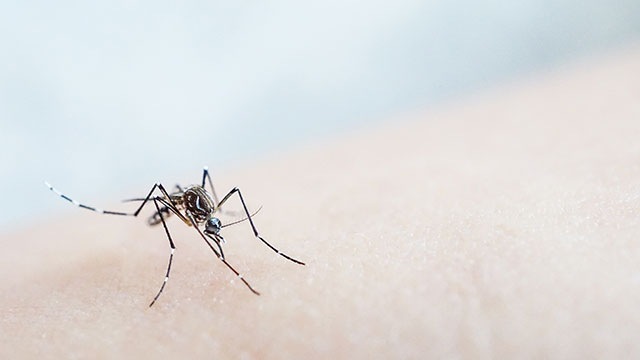 There are many other different mosquito-borne diseases present in Australia that you should be aware of. These diseases include:
Ross River Virus (RRV)
Ross River Virus (RRV) is South Australia's most common mosquito-borne disease that primarily affects animals but it can also infect humans. It is commonly found in native animals, like wallabies and kangaroos. It's thought that those animals play a role in spreading the disease. This virus can cause various symptoms, including:
fever and chills
joint pain
muscle pain
fatigue
rash
swollen lymph nodes
The most common symptom of Ross River virus infection is joint pain. It affects any joint in the body, but the most common are the wrists, knees, ankles, fingers, elbows, shoulders, and jaw. The pain may be more severe in different joints at different times. However, extreme cases can lead to a debilitating condition lasting for months or even years.
Prevention and treatment: There is no known cure for the virus, but there are ways to manage your symptoms and promote healing. Pain-relieving medicines such as paracetamol and anti-inflammatory drugs can help to reduce pain and swelling. It is also important to rest, eat a healthy diet and get some exercise.
Barmah Forest Virus (BFV)
Barmah Forest Virus (BFV) is another common mosquito-borne disease in Australia. It usually causes a milder form of the Ross River virus with similar symptoms. However, many people may develop a more severe form of the disease that can lead to long-term health problems.
Many people infected with BMV will not develop any symptoms. However, some people may develop:
rash
joint pain
muscle aches
fatigue
flu-like symptoms
swollen lymph glands
Most people will recover completely within a few weeks, but some may experience symptoms for several months. A full recovery can be expected. In sporadic cases, symptoms may persist for more than a year. However, even in these cases, a full recovery is still possible.
Prevention and treatment: There is no specific treatment for BFV, but you can manage the symptoms with medication and rest. In most cases, people will recover within a few weeks, but some may experience long-term symptoms.
Murray Valley encephalitis (MVE)
Murray Valley encephalitis (MVE) is a zoonotic flavivirus prevalent in Northern Australia and Papua New Guinea. It was previously known as Australian encephalitis or Australian X disease. The virus can cause severe inflammation of the brain and even death.
MVE is a rare disease, with only a few human cases reported annually in Australia. The most common symptoms of MVE include:
fever
headache
vomiting
stiff neck
drowsiness
seizures
tremors
Prevention and treatment: No vaccine or specific treatment for MVE, but medicines are available to treat mild symptoms such as headache and fever. Some people may need treatment in a hospital if their symptoms are severe.
Kunjin Virus/West Nile virus infection
Kunjin Virus (KUV)/West Nile virus (WNV) infection is a viral infection caused by the Kunjin virus. It is endemic throughout tropical parts of Australia, but most cases have been reported in Northern Australia.
The symptoms of Kunjin Virus/West Nile virus infection can range from mild to severe and include:
fever
headache
malaise
muscle pain
rash
fatigue
swollen lymph nodes
In severe cases, the virus can lead to encephalitis (inflammation of the brain) or meningitis (inflammation of the membranes around the brain and spinal cord).
Prevention and treatment: There is currently no specific treatment or vaccine available for Kunjin virus infection. However, you can take some steps to reduce the severity of symptoms and make the recovery process more comfortable—for example, pain relief and anti-nausea medications.
Dengue Fever
Dengue Fever is found in tropical and subtropical areas of the world. It is not endemic in Australia, but one of its host mosquitoes, Aedes aegypti, is found here. The first dengue cases in Australia were recorded in Townsville in the late 19th century. The disease was also seen in other parts of Queensland and northern New South Wales in the early 20th century.
Dengue can cause severe illness and, occasionally, death. The symptoms include:
high fever
severe headaches
pain behind the eyes
nausea and vomiting
muscle and joint pain
rash
Prevention and treatment: There's no available antiviral treatment for dengue, and no vaccine is available to prevent it. Instead, personal care and environment management is the recommended approach to prevent dengue.
Notification Requirement for Mosquito-Borne Diseases
Japanese Encephalitis, Ross River, Barmah Forest, Kunjin virus/West Nile virus, Murray Valley Encephalitis, and Dengue Fever are all notifiable diseases in Australia. It means that if you suspect you have any of these diseases, you must notify your local public health unit so that they can investigate and provide advice on treatment and prevention.
By law, certain infections must be notified to the relevant authorities, and penalties exist for failing to report. The purpose of notification is to allow public health officials to take action to prevent the spread of the infection and to provide information and advice to those who may have been exposed.
Workplace Safety Against Mosquito Bites
There are reports of JEV outbreaks among pigs in South-Eastern Queensland, New South Wales, Northern Territory, Victoria and South Australia during the first and second quarter of 2022. As a result, Safe Work Australia has developed new guidance on reducing the risk of exposure to this disease for persons conducting a business or undertaking (PCBU).
As a PCBU, you must take all reasonable measures to eliminate the risk of mosquito-borne diseases. Where you cannot eliminate the risk, you must minimise it as much as possible. You can include implementing control measures such as:
Assess the risks of exposure to mosquito-borne diseases in your workplace.
Ensuring your employees get vaccinated, especially if they are a part of the priority group for vaccination.
Implementing mosquito control measures. For example, get rid of any standing water, where mosquitoes lay their eggs. You can also use insect repellent to keep them away.
Providing workers with training on how to avoid exposure to mosquitoes
Monitoring worker health and providing prompt medical treatment if someone becomes ill
Providing workers with personal protective equipment
Review your current workplace policies and procedures related to health and safety, including those for controlling mosquitoes and other pests.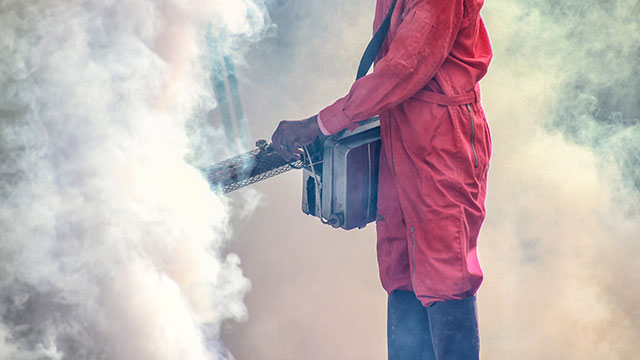 Mosquito-Borne Diseases Risk Management for Workplaces
Mosquito-borne diseases can majorly impact businesses, causing employees to miss work and customers to avoid patronising affected companies. As such, businesses need to have a health and safety program to reduce the chances of these diseases spreading. Start by utilising safety documentation, such as those from SafetyDocs, to develop safe work that protects the business.
Safety Management Plan (SMP)
A safety management plan outlines how a business minimises and manages health and safety risks. It identifies who is responsible for what and when actions must occur. It also provides a step-by-step guide on identifying, assessing and controlling risks.
Having an SMP for keeping safe against mosquito-borne diseases ensures that everyone understands their roles and responsibilities concerning this issue.
Safe Operating Procedures (SOP)
Safe operating procedures provide employees with clear instructions on how to complete tasks safely. Workers who may have close contact with mosquitoes should follow these procedures to protect themselves from being bitten.
You can use documents such as the Outdoor Work Safe Operating Procedure and Working with Livestock Safe Operating Procedure.
Waste Management Plans
Wastewater that is not disposed of properly can provide breeding grounds for mosquitoes. Proper waste management plans help businesses ensure that their waste does not lead to mosquito problems.
Emergency Response Procedure
An emergency response procedure should be in place if an employee is bitten by a mosquito and becomes ill. Say a worker is having seizures. Workers should know first aid, how to respond, and whom to call for assistance, such as an ambulance.
Pest Control Management
Pest control management plans help businesses control mosquitoes and other pests. A professional should design these programs to ensure they are effective and meet the business's specific needs.
Create Your Safety Program With SafetyDocs
A comprehensive health and safety program is essential to protecting workers, customers and the business. Utilising safety documents is an easy way to develop these programs.
Keep your employees safe from mosquito-borne diseases by implementing the right policies and procedures. SafetyDocs by SafetyCulture can help you get started with our templates.
SafetyDocs offer a wide range of content-rich solutions that are:
2022 Compliant
We take compliance seriously with all our documents checked against the latest changes in legislation. Our documents are written by our expert team with years of experience managing safety hazards and monitoring compliance. Plus, they all include a free legislationreference list.
Industry-Leading
We are Australia's leading provider of safety documents, with a wide range of content for different industries. So no matter your business, we have the right solution to keep your workplace safe.
Customisable
You can customise all our documents to meet the specific needs of your business. For example, you can add your company logo, colours, and make changes to the content to ensure it is relevant to your workplace.
Start managing risks from mosquito-borne diseases by using the following templates:
Get started with SafetyDocs today and create a comprehensive health and safety program for your workplace.
Share This Article