A growing number of professionals are finding themselves working alone in remote environments. Contractors such as gas engineers, surveyors, plumbers, and electricians are among the industries with the highest number of lone workers in Australia. As the trend of remote work continues to rise, so too does the need for employers to ensure the safety of their lone and remote workers. This presents safety concerns that demand thoughtful attention.
This article delves into the challenges that lone workers face in remote settings within Australia and explores effective strategies to ensure their own safety and overall well-being.
Understanding Lone Workers in Remote Environments
How do you define a lone worker?
A lone worker is defined as an employee who works by themselves and/or works in the community with only limited support arrangements. They do not have direct supervision when carrying out their duties and may work in areas that are remote or have limited access to support. A lone worker may also be referred to as an isolated worker, and they carry out their work activities without the immediate and direct support of colleagues or supervisors. Each state and territory in Australia may have its own specific regulations and legislation related to lone working and work alone employees.
Examples of a lone worker
Cleaners: Many cleaners work alone, especially if they're cleaning offices or buildings during off-hours when other employees aren't present.
Social Workers: Social workers often meet with clients one-on-one in various settings.
Plumbers: A plumber entering someone's property alone to carry out repairs or maintenance is another example of a lone worker.
Retail Workers: A retail worker stacking shelves with no other colleagues in the direct vicinity.
Maintenance Workers: Local authority maintenance workers who maintain public built environments, parks, play areas, and other outdoor facilities.
Technicians: Technicians, such as those who install, repair, or maintain equipment in various settings.
Contractors and Self-Employed People: These individuals often work alone on various projects, such as personnel working on graveyard shifts.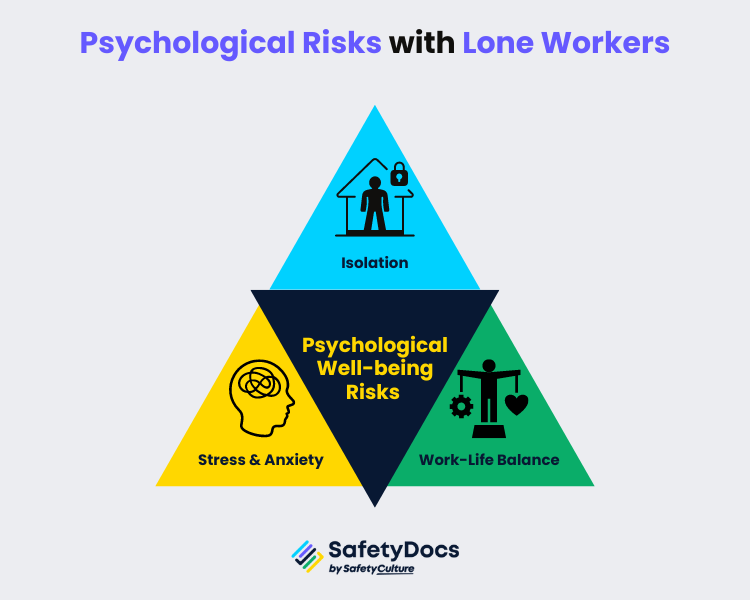 Prevalence and Sectors
The number of people working alone in Australia has been increasing year on year. This growth is driven by factors like industry changes and the current climate, such as the increasing number of people working from home during the COVID- pandemic.
Lone work is particularly prevalent in industries such as:
Healthcare and Social Assistance: Healthcare workers, including nurses, doctors, and home care providers, are among the highest-risk industries for experiencing violence and aggression. This sector employs a significant number of lone workers who may work independently, visiting patients in their homes or working in remote locations.
Construction: This industry also has a high prevalence of lone workers. Tradespeople, such as electricians, plumbers, and carpenters, often work alone on job sites or in remote areas. For instance, when a construction worker is setting up scaffolding or doing maintenance on an upper floor.
Real Estate and Property Management: Real estate agents and property managers often work alone when conducting property inspections, showings, and maintenance tasks.
Retail: Many retail workers, such as cashiers and shelf-stackers, work alone in isolated areas of the store. This is especially true when employees are on late shifts or during off-hours when no other colleagues are present.
Community and Social Services: Lone workers in the community and social services sector, including social workers and outreach workers, may work independently in the field, providing support and assistance to individuals and communities.
The prevalence of lone workers may vary within each sector and can be influenced by factors such as geographical location and specific job roles. Additionally, it may change over time as work practices and technologies evolve.
Safety Hazards Faced by Lone Workers
Lone workers face a number of safety challenges, which can be broadly categorised into personal safety risks and psychological well-being concerns.
Personal Safety Risks
Workplace Violence: Violence such as verbal threats and physical assaults may be directed at lone workers, particularly in sectors such as healthcare or social services
Workplace Accidents or Emergencies: Lone workers are more susceptible to accidents or emergencies, primarily because there's typically no one around to provide immediate assistance.
Inadequate Rest and Breaks: Working alone often means not taking appropriate breaks, which can lead to fatigue and decreased alertness, increasing the risk of accidents.
Physical Threats: Depending on their job role and environment, lone workers may face physical threats such as falls, slips, and trips. Losing balance while performing manual labour tasks, working on elevated surfaces, or carrying heavy loads are common risks for lone workers who work outdoors in a remote location.
Natural Disasters: When working in remote areas, lone workers are at an increased risk of natural disasters like floods or bushfires.
Psychological Well-being Risks
Working alone can also pose significant challenges to a worker's mental health. These include:
Isolation: Lone workers may feel isolated due to a lack of social interaction, which can lead to feelings of loneliness and depression.
Stress and Anxiety: The pressure of working alone, particularly in high-risk environments, can cause heightened levels of stress and anxiety.
Work-Life Balance: Maintaining a healthy work-life balance can be difficult for lone workers, particularly those who work irregular hours or are always on call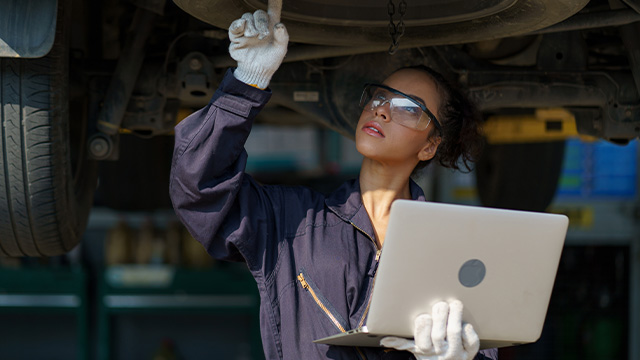 Lone Worker Safety Legislation
In Australia, the Work Health and Safety Act 2011 requires that organisations, as far as reasonably practicable, ensure the provision and maintenance of safe systems of work. This encompasses the provision of essential information, training, instructions, or supervision to safeguard the well-being and safety of all individuals. Furthermore, it necessitates the continuous monitoring of workplace conditions and employee health to prevent any occurrences of illness or injury.
Not having a well-thought-out lone-worker safety policy can lead to organisations and their officers violating government regulations. This may result in workers' compensation claims, lawsuits, fines, and, in severe cases, imprisonment.
WHS Duties for Lone Worker Safety
Person Conducting a Business or Undertaking (PCBU)
In Australia, the Work Health and Safety (WHS) laws require that a Person Conducting a Business or Undertaking (PCBU) ensure as far as possible the health and safety of their workers. This obligation extends to remote or isolated workers who work remotely or in isolation.
The term PCBU, widely employed in work health and safety legislation, encompasses diverse contemporary work arrangements, commonly known as businesses. Their primary duties include:
Creating and upholding a safe and healthy work environment is of utmost importance.
Ensuring the provision of sufficient and easily accessible facilities to safeguard the welfare of employees.
Monitoring the health and safety of workers and workplace conditions to prevent work-related illnesses and injuries.
Giving workers the necessary information, instruction, training, or supervision to perform their job without risks to health and safety.
Consulting with workers, and health and safety representatives (HSRs) if available, about health and safety issues that may directly affect them
Workers
Workers, including employees, contractors, subcontractors, labour hire employees, outworkers, apprentices, or volunteers, also have a duty of care to:
Prioritise their own well-being and safety while in the workplace by taking reasonable precautions
Take reasonable care to not affect others' health and safety.
Comply with reasonable instructions.
Cooperate with reasonable policies and procedures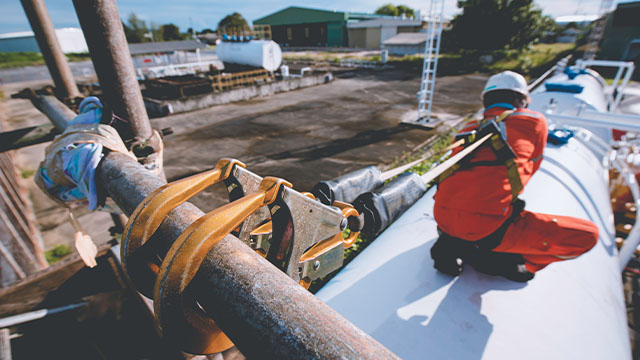 Effective Strategies for Lone Worker Safety
Ensure a secure work environment
Employers should ensure that the work environment is well-lit and secured with lock systems, security cameras, intruder alarms, etc. to minimise the risk of workplace hazards. A lone worker may also benefit from having an alarm system or a panic alarm installed, which can be used to alert the employer or emergency services in the event of an incident.
Provide adequate training and supervision
Employers should provide their lone workers with the necessary information, training, and instruction to carry out their work safely. This can include training on medical emergency procedures, first aid, and how to use communication and monitoring systems. Additionally, workers should receive a copy of the safety policies and procedures and supervisors should regularly check in with lone workers to ensure they are following safe work practices.
Conduct Site-Specific Risk Assessment
Encouraging lone workers to conduct thorough assessments of their remote work environment is crucial for their safety and well-being. By taking the time to carefully evaluate their surroundings, isolated workers can identify any potential risks or hazards that may pose a threat. This enables them to proactively implement effective measures to mitigate these risks and ensure a secure work environment.
Develop lone worker policy and safety procedures
Employers must provide clear guidance on expected behaviour and safe work practices through safety policies and procedures that are tailored to meet their specific needs. These should include:
Risk management strategies (identifying potential hazards and implementing preventive measures).
Safe work practices, such as how to handle hazardous materials, securing equipment, or lifting heavy items.
Protocols for reporting accidents and incidents.
Guidelines for lone workers on the use of personal protective equipment.
Procedures for responding to emergencies or unexpected situations.
Lone worker policy that outlines the company's rules on working alone and helps employees understand the risks of their role.
Establish Communication Protocols
Clear communication protocols should be established between the employer and lone workers in emergency situations, such as:
Requiring check-ins at set intervals.
Establishing a monitoring system, such as GPS tracking or two-way radios, to provide real-time updates on the workers' location and activities.
Providing access to an emergency contact who can respond immediately in the event of an incident.
Installing monitoring systems that allow them to keep track of their lone working employees in real time. This can include GPS tracking devices, panic alarms, or other two-way communication systems.
Leverage Technology for Lone Worker Safety
Technology plays a pivotal role in enhancing the safety of lone workers:
GPS Tracking and Geofencing: GPS technology offers real-time tracking of lone workers' locations, ensuring swift response during emergencies. Geofencing can notify supervisors if workers move beyond designated safe zones.
Mobile Apps and Wearables: Dedicated apps and wearable devices grant lone workers immediate medical assistance to emergency services, allowing them to share location data and maintain two-way communication.
IoT and Sensors: The potential of IoT devices and sensors should not be overlooked, as they can monitor environmental factors such as temperature, air quality, and noise levels, ensuring a secure working environment.
For more insight into technology solutions for lone workers, consider SHESQY by SafetyCulture.
SafetyDocs for Lone Worker Safety Solution
As the nature of work continues to evolve, prioritising the safety and well-being of lone workers in remote Australian environments becomes paramount. By acknowledging the challenges they face and implementing proactive strategies and advanced technologies, employers can ensure that lone workers remain productive, safe, healthy, and connected.
Utilising safety documents can help employers and lone workers ensure compliance with safety regulations.SafetyDocs by SafetyCulture provides templates and checklists to help you develop a comprehensive set of health and safety documents for lone worker safety.
From risk assessments, safe work procedures, incident reports, and hazard registers, SafetyDocs has all the necessary paperwork to support your lone workers in their remote working environment. Check out the following safety documents to get started:
Contact SafetyDocs for more information about how to leverage safety documents for your lone worker safety solution program today!
---
Our team of experts is dedicated to providing accurate and informative content. Craig Cruickshank, our senior HSEQ advisor at SafetyDocs by SafetyCulture has reviewed this blog post to ensure the highest level of quality.
Learn more about Craig's work on LinkedIn for more industry insights.
Available for instant download and supplied in fully editable MS Word format for use in your business.
Please note that the above information is provided as a comment only and should not be relied on as professional, legal or financial advice.
Share This Article