Oct 21st 2021
Week 3 of National Safe Work Month - Clean Air. Clean Lungs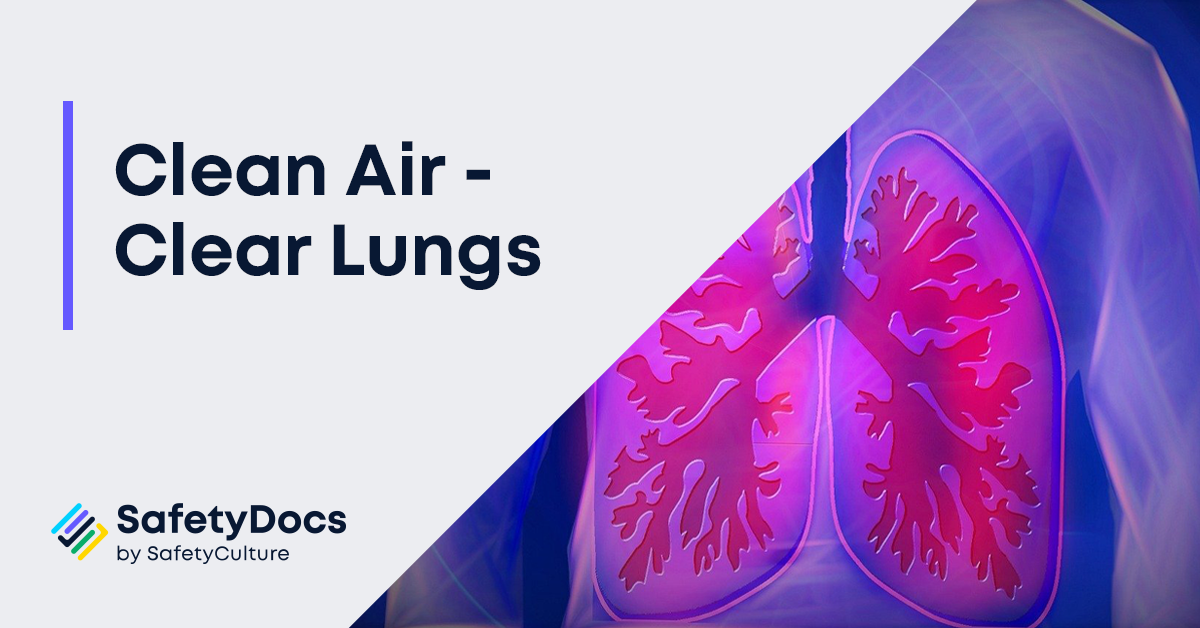 In the third week of supporting Safe Work Month, we will be focusing on workplace exposure to hazardous chemicals and dust. The Clean Air, Clear Lungs campaign is run by Safe Work Australia to raise awareness of occupational lung diseases.
Are you at risk of exposure to hazardous chemicals and dust?
If you're an employer, it's important to understand the health risks that your employees are exposed to on a daily basis. Did you know there are strict limits for exposure to hazardous chemicals and dust to ensure the safety of workers?
One of the most common exposures in this category is asbestos fibre which can lead to lung cancer or mesothelioma if inhaled over time. Still, there are other hazards that are often unseen. It's essential for everyone's safety that these risks are not only identified but managed correctly.
What industries are most at risk?
Work-related lung diseases are made worse in specific work environments that can place workers at greater risk than others. They can be caused by long term exposure to irritants that you breathe into your lungs, and these illnesses may have lasting effects even after the particular situation no longer exists.
Manufacturing workers often use chemicals and materials which may be harmful to breathe in.
Construction workers can be exposed to concrete dust, asbestos fibres and lead.
Engineered stoneworkers are at high risk of exposure to silica dust while conducting their work.
Agricultural workers can be exposed to such as pesticides, chemicals, fuels and fumes.
How to manage the risk!
The first step is to identify the dust, fumes, gases or vapours present in your workplace that may potentially lead to workers developing occupational lung disease. Speaking to your workers is also important to get their feedback.
Once you have identified these risks, you can implement appropriate control measures to eliminate or manage these risks.
Depending on your industry or hazards that you have identified there could be quite complex control measures and ongoing monitoring protocols that need to be put in place. It is important that you seek advice from Work Health and Safety Regulators, Industry associations and Safety Professionals when developing your control methods.
How can we help?
SafetyDocs by SafetyCulture has a comprehensive range of policies, plans, procedures, checklists and forms designed to keep workers safe from exposure to hazardous chemicals and dust.
In support of The Clean Air, Clear Lungs campaign run by Safe Work Australia, for this week, we are offering 20% off the following products related to lung health.
Asbestos Safety Documents
Respirable Crystalline Silica Management Plan
Silica Dust SWMS
Lead Management Plan
Lead Paint Removal SWMS
Working Around Lead Residue Dust SWMS
Bench-top Installation Stone SWMS
Health Surveillance Record
Health Surveillance Policy
Coming in the following weeks!
Next week, we will talk about whether you work in an office or on a high-risk worksite; health and safety risks can still present themselves and harm workers.

The offer begins Wednesday 20th October 2021 and ends Wednesday 27th October 2021. The discount only applies to the above products and the coupon code CLEANAIR2021 needs to be entered during checkout for the discount to be applied.
Share This Article