Jan 19th 2022
The top 10 safety management documents you NEED to know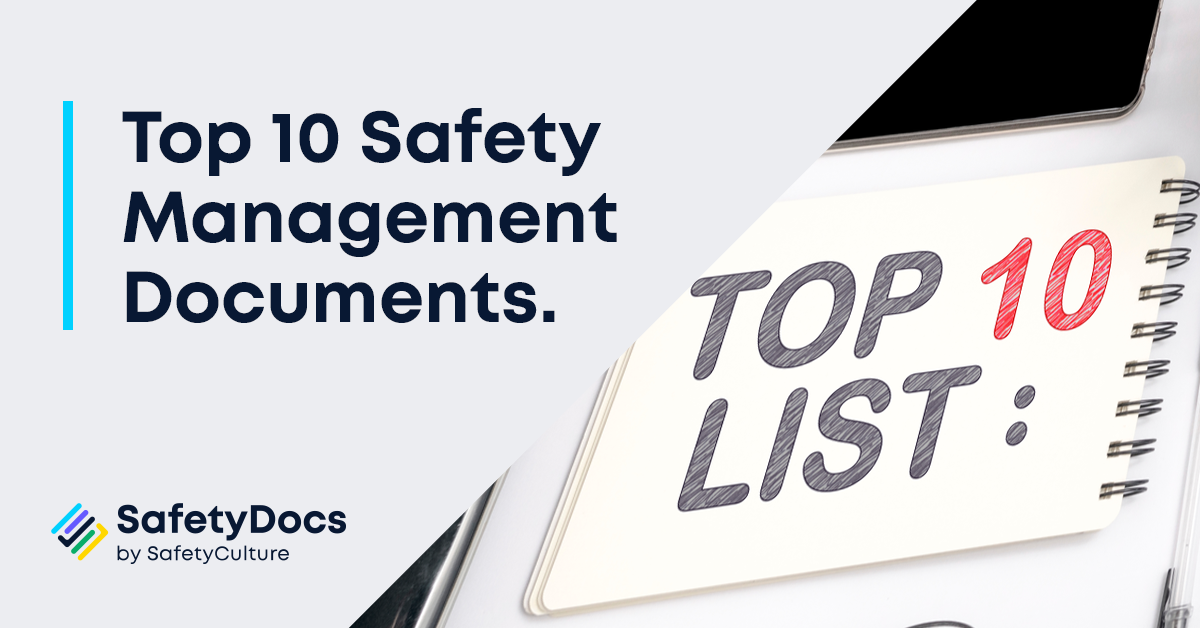 Top 10 Safety Management Documents
There are numerous health and safety documents that companies use to protect their employees. Arguably, the most common of these for high-risk construction work is Safe Work Method Statements; however, many other tools are also commonly used.
Below we have listed what we believe are the top 10 most common Work health and Safety documents that organisations use – no matter what industry you work in.
1.
Safe Work Method Statement (SWMS)
A Safe Work Method Statement is a document specifically designed to meet regulations and ensure correct procedures are followed during high-risk construction work activities.
2. Risk Assessment Forms
A Risk Assessment is a document that evaluates the risks associated with a particular task or activity. It helps identify any potential hazards and determines the level of risk that each hazard poses.
3. Safety Management Manuals
Safety Management Systems provide a systematic approach to managing health and safety, including organisational structures, accountabilities, policies and procedures. For those serious about safety, a complete safety management system can provide a structured management approach to control safety risks.
4. (Job Safety Analysis) JSAs
JSA's are similar to Risk Assessments, but they focus specifically on the risks associated with a specific job. JSAs help employers create safe work procedures and ensure that all employees are aware of the risks involved in their job.
5. Policies and Procedures
Workplace OHS/WHS policies and procedures are an essential part of any management system. They establish boundaries, guidelines, and best practices for acceptable behaviour. At the same time, procedures can define a sequence of steps to be consistently followed.
6. Safety Checklists
Safety checklists are used during safety inspections for the identification of potential hazards. Each workplace has its own set of risks, and checklists appropriate to the specific workplaces and processes should be used to ensure compliance with safety standards.
7. Worker/Contractor Handbooks
Handbooks are usually provided with site-specific induction before the commencement of any work. A safety handbook can help workers and contractors understand the hazards, risks, permits, controls and safety rules that apply to a site.
8. Site-Specific Management Plans
A site-specific Safety Management Plan can clearly define responsibilities, timelines, and milestones for your site. This can include high-risk activities such as working with asbestos, confined spaces or chemicals or developing a Covid-19 Management plan for your business.
9. Safe Operating Procedures
A Safe Operating Procedure (SOP), also commonly referred to as a Standard Operating Procedure/Safe Work Procedure (SWP), allows workers to perform their job in a consistently safe manner, usually with clearly defined steps for a particular task or process.
10. Risk Registers
The Risk Register is a tool for documenting risks, and actions to manage each identified risk. The Risk Register allows all risks to be clearly identified in a central location with the associated actions that have been or are to be taken to mitigate the risk.
Share This Article