Trust with customers and clients is vital for building lasting relationships and successful businesses. They depend on your products or services to meet their needs and expectations. So, how do you do it? By providing quality in all aspects of your business. And to prove that yours is a quality business, you need ISO 9001, a globally recognised quality standard.
What is ISO 9001?
ISO 9001 is a quality management system standard, or QMS for short, that provides organisations with a framework for consistent, high-quality products and services. It applies to all businesses, big or small, regardless of industry. Over a million companies and organisations across 170 countries are certified to this standard.
A quality management system comprises a set of interconnected processes and documentation aimed at ensuring quality. Its principles cover a strong focus on the customer, active involvement of top management, a process-oriented approach, and continual improvement. Simply put, it organises your workflow to help you achieve continuous improvement and customer satisfaction.
This standard is part of the ISO 9000 family. However, it is the only one businesses can get certified for. ISO 9001:2015 is the most current version and addresses risk-based thinking, leadership engagement, and process performance.
7 Quality Management Principles of ISO 9001
ISO 9001 lays out some foundational concepts and principles for quality management systems. These principles help you build high-quality products, services, and processes that customers will trust and value.
Adhering to the seven quality management principles, the critical elements of total quality management (TQM), can significantly simplify implementing a QMS. These seven quality management principles form the foundation of a successful ISO 9001 system:
Customer focus: Meeting and exceeding customer needs should be the primary focus of your quality management efforts.
Leadership: Leaders must develop and demonstrate effective leadership that sets the tone for the entire organisation and sets an example for all involved.
Engagement of people: Competent, engaged, and empowered employees at all levels of your business or organisation can make a difference in delivering value to your customers.
Process approach: This requires understanding the underlying interrelationships between processes that create value for customers.
Improvement: You can achieve improvement by focusing on data-driven decision-making and identifying opportunities for improvement.
Evidence-based decision making: Making a decision should be based on collected, interpreted, and acted upon data.
Relationship management: Organisations should establish mutually beneficial relationships with suppliers and other stakeholders who can contribute to meeting customer requirements.

ISO 9001 Certification in Australia
One way to demonstrate that you have taken the necessary steps to ensure your products and services meet international standards is ISO 9001 certification. However, organisations are not obligated to get certified. Therefore, the first step is to evaluate whether certification would benefit your organisation. Answer these questions:
Why should you pursue certification?
What are the benefits to your organisation and customers?
Do the costs justify the investment?
ISO certification available in Australia
AS/NZS ISO 9001 and ISO 9001 essentially reflect the same set of standards. The international ISO 9001 standard has been adopted in its entirety by Australia and New Zealand, denoted by the prefix "AS/NZS" standing for Australian Standard/New Zealand Standard.
This doesn't mean that there are additional or different requirements in the AS/NZS ISO 9001 version. The standards are effectively identical, as the Australian/New Zealand version is an adoption, not an adaptation. The main purpose of this regional adoption is to formally recognise and endorse the use of the international standard within the Australian and New Zealand regulatory environments.
By adhering to AS/NZS ISO 9001, organisations in Australia and New Zealand are therefore also adhering to the international ISO 9001 standard. This allows them to demonstrate their commitment to quality management principles at both a local and global level.
Australia has access to all international standards, but the following are most commonly utilised:
AS/NZS ISO 9001: Quality Management Systems - This standard sets out criteria for a quality management system and is based on a number of quality management principles including a strong customer focus, the involvement of top management, a process approach, and continual improvement.
AS/NZS ISO 14001: Environmental Management Systems - This standard provides a framework that a company or organization can follow to set up an effective environmental management system.
AS/NZS ISO 45001: Occupational Health & Safety - This standard provides a framework for managing the prevention of work-related injury and ill health, providing a safe and healthy workplace.
AS/NZS ISO/IEC 27001:2006: Information Security Management - This standard provides requirements for an information security management system (ISMS) to enable organisations to manage the security of assets such as financial information, intellectual property, or information entrusted by third parties.
How to Get ISO 9001 Certified in Australia?
When you decide that certification is right for your business, it's time to start preparing for the process. There are three ways to begin the certification process for ISO 9001.
1. Constructing your own Quality Management System
As a starting point, you have the opportunity to fulfil all the certification requirements by constructing your own Quality Management System (QMS) that aligns with the stipulations of the AS/NZS ISO 9001:2016 standard. This route allows you to develop a system that is tailored specifically to your organisation's processes, culture, and business objectives. However, it requires a deep understanding of the standard's requirements, as well as a significant investment in time and resources.
2. Utilising Pre-Existing QMS Templates
If building a QMS from scratch seems a bit overwhelming or time-consuming, you can opt to purchase a pre-existing template for a QMS from a company like SafetyDocs by SafetyCulture, or similar organisations. These templates are designed to meet the requirements of the ISO 9001 standard, providing a solid framework that you can adapt to your organisation's specific needs. This option can save time and ensure that your QMS covers all necessary aspects of the standard.
3. Engaging an ISO 9001 Consultant
Lastly, if you prefer to have expert guidance during your certification journey, you can engage an ISO 9001 consultant. These professionals bring a wealth of knowledge and experience to the table, and they can work closely with your team to ensure your QMS not only complies with ISO requirements but also aligns with your company's strategic objectives.
An ISO 9001 consultant will collaborate with the relevant individuals within your company, helping to develop procedures and processes, provide training, and prepare for the certification audit. While this option might involve a higher upfront cost, the expertise and support provided by the consultant can streamline the certification process and help to avoid potential pitfalls or oversights.
After you develop and implement a quality management system (QMS), you can have it certified by an independent third-party certification body. An accreditation body, such as the Joint Accreditation System of Australia and New Zealand (JAS-ANZ), regulates these bodies.
ISO 9001 certification process
The certification process typically contains several stages:
Step 1: Choose a certification body and schedule a consultation.
Step 2: The second stage is to conduct a gap analysis, identifying areas where the business needs to improve to meet the ISO 9001 standard.
Step 3: QMS implementation planning. After identifying the gaps, it's time to plan for the project. Implement a comprehensive project plan that includes key timelines, parties involved, deliverables, and responsibilities assigned.
Step 4: Prepare for and undergo a Stage 1 audit, which reviews the QMS documentation to ensure compliance with the ISO 9001 standard.
Step 5: Implement any necessary improvements and undergo a Stage 2 audit to demonstrate compliance with ISO 9001 standards. This on-site audit ensures that the QMS is followed and effective.
Once you secure QMS certification, periodic surveillance and recertification audits become part of the program. Surveillance audits, conducted twice in the first two years after initial certification, ensure ISO 9001 standards are maintained. They are less rigorous than the certification audit. After the third year, a comprehensive re-certification audit is conducted. Achieving longevity and alignment with the 9001 standards requires attention to this vital process.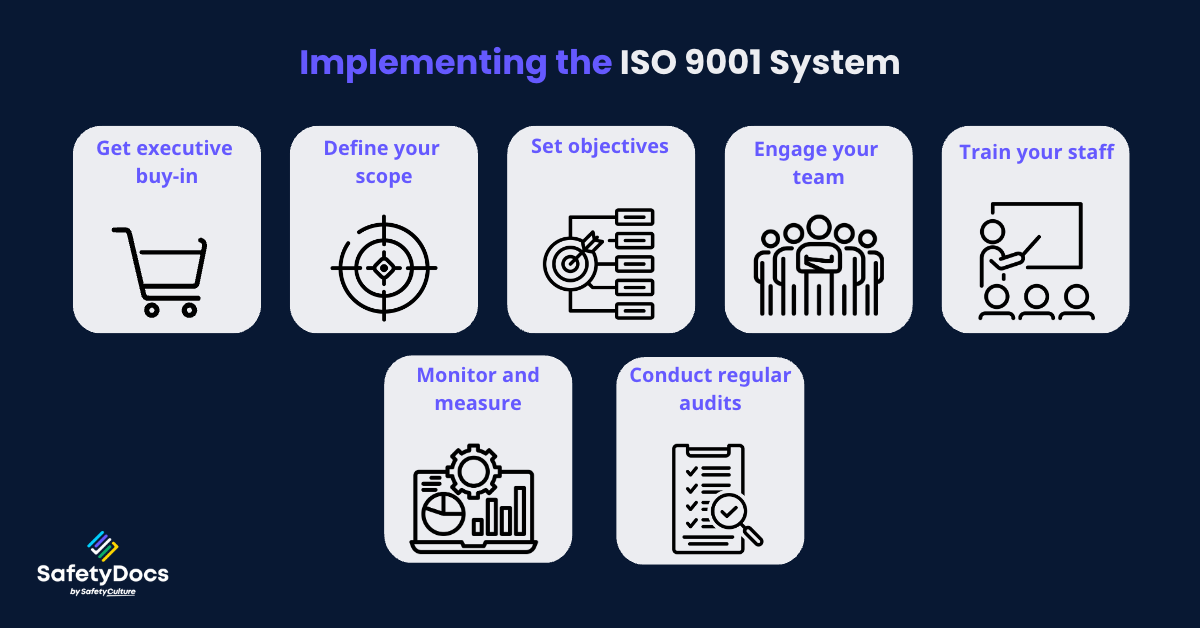 Implementing the ISO 9001 System
Part of the process of getting certification is the implementation of a QMS. This is a process that involves training, documentation, and continuous improvement. The management should train all employees on how the QMS works and their roles in its implementation. Documentation must give instructions for each task performed within the organisation. Finally, the system must include a mechanism for identifying and implementing areas.
For a successful quality management system, follow these tips to help ensure a successful implementation:
Get executive buy-in: For the ISO 9001 system to be successful, it's essential to have buy-in from top-level management. They are responsible for providing the necessary resources and support to drive the implementation process.
Define your scope: Determine the extent of your ISO 9001 system – which parts of your organisation will be covered and what processes you should include.
Set objectives: Establish measurable objectives that align with your organisation's goals. This will serve as a benchmark for the success of your ISO 9001 system.
Engage your team: Involve your team in the implementation process. This will ensure that the team understands their role in the system and that it caters to the organisation's needs.
Train your staff: Provide appropriate training to all employees on the ISO 9001 system requirements and their role in maintaining the system.
Monitor and measure: Continuously monitor and measure the effectiveness of the ISO 9001 system. This will help identify areas for improvement and ensure that the system remains relevant and effective.
Conduct regular audits: Internal audits ensure the organisation follows the system and identifies improvement areas.
Why ISO 9001 Certification is Important for Businesses
Here are some reasons why ISO 9001 certification is essential for businesses:
1. Improves Customer Satisfaction
ISO 9001 certification helps companies improve customer satisfaction by delivering consistent products or services. Customers who know a business is ISO certified are confident they will receive high-quality products and services. Ultimately, this leads to customer loyalty and repeat business.
2. Enhances Credibility and Trust
ISO 9001 certification is a widely recognised symbol of a company's commitment to quality. It demonstrates to customers, suppliers, and other stakeholders that the company commits to providing high-quality products or services. It shows they are willing to undergo regular certification audits to maintain quality standards.
3. Increases Operational Efficiency and Effectiveness
ISO 9001 certification requires businesses to follow a structured approach to Quality Management. This structured approach helps companies improve their business processes, increase efficiency, reduce waste and optimise resources.
4. Enables International Trade
Many countries require businesses to hold ISO 9001 certification to participate in international trade. Certification helps organisations expand their customer base and build relationships with international partners. For companies that operate globally, an ISO 9001 certification is often a requirement for doing business with specific customers, especially government agencies or large corporations.
5. Facilitates Continuous Improvement
The continuous improvement component of ISO 9001 certification ensures that a business's QMS is constantly evolving. An organisation's quality system should have regular evaluations to meet customer expectations or comply with changing standards. This helps the company stay ahead of the competition, remain relevant, and meet changing market needs.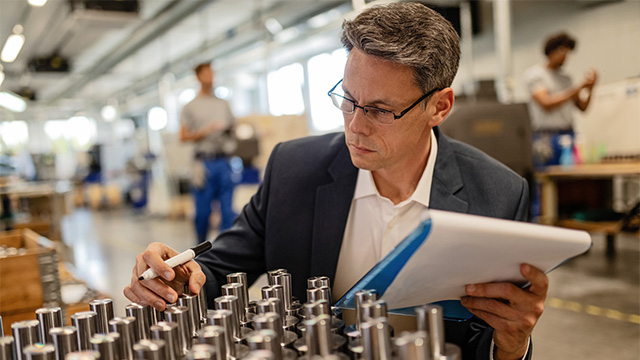 We Help in Developing and Implementing Quality Management Systems
Becoming ISO 9001 certified is a strategic decision for any business that wants to improve its processes, enhance customer satisfaction, and achieve long-term success. Before gaining certification, you must develop and implement an effective quality management system (QMS).
At SafetyDocs by SafetyCulture, we are committed to helping businesses create and maintain a successful QMS. We specialise in assisting companies to stay in a safe and compliant working environment. Our comprehensive suite of products includes templates for safety documentation, management system implementation, training materials, and certification support.
You can start with the following safety documents as a foundation to develop and maintain an effective QMS:
Contact us today to learn how we can help you develop and implement an effective QMS that meets ISO 9001 standards.
---
Our team of experts is dedicated to providing accurate and informative content. Craig Cruickshank, our senior HSEQ advisor at SafetyDocs by SafetyCulture has reviewed this blog post to ensure the highest level of quality.
Learn more about Craig's work on LinkedIn for more industry insights.
Available for instant download and supplied in fully editable MS Word format for use in your business.
Please note that the above information is provided as a comment only and should not be relied on as professional, legal or financial advice.
Share This Article