Construction management involves planning, coordinating, and monitoring the various activities of a project from inception to approval to completion. Since many construction activities are high-risk and complex, organisations must have a reliable plan outlining all stakeholders' roles. A construction management plan (CMP) and a construction site management plan (CSMP) will keep everyone safe and ensure the project runs smoothly.
The Need for Construction Management
The Australian government has identified the construction industry as a national priority in the Work Health and Safety Strategy 2012-2022. The number of worker fatalities in the construction industry is relatively high, with 3.0 per 100,000 workers. This highlights the need for increased efforts to improve safety in the industry.
Here are some of the critical reasons why construction management is so important:
Keeps projects on track
A construction manager ensures that a project stays on schedule and within budget. This involves careful planning, resource allocation, and continuous monitoring to identify and address potential issues as early as possible.
Improves communication and collaboration
A successful construction or development project requires effective communication and collaboration between various stakeholders, including architects, contractors, workers, and clients. A construction manager serves as a central point of contact, helping to facilitate communication and ensure that everyone is working together towards the goal.
Enhances safety and quality control
Construction managers ensure complete construction of a project meets all applicable safety regulations and quality standards. This involves conducting regular inspections, enforcing safety protocols, and ensuring all work is of a high standard.
Manages risk
Construction works are inherently risky, with potential legal, financial, and public safety implications if something goes wrong. Construction management helps to identify potential hazards, develop strategies to mitigate them, and monitor the project's progress.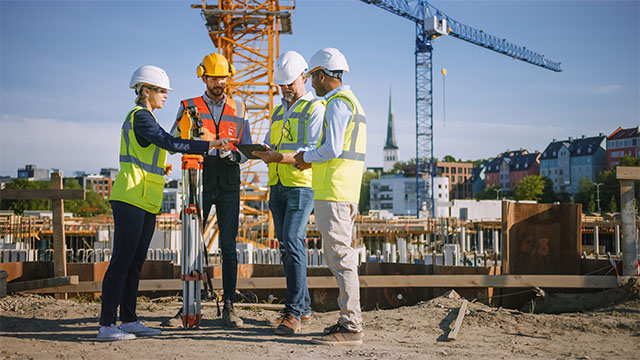 Systems And Tools for Construction Management
Building Information Modelling (BIM). BIM is an innovative way to manage the life cycle of a built asset, from design and construction to decommissioning. Employing advanced digital modelling techniques helps create safe and cost-effective buildings throughout their lifetime.
Project Management Software. Companies need innovative technology to ensure quality and efficiency in their construction projects. The software plans, tracks, and manages various aspects of the project, such as scheduling tasks, allocating resources, monitoring progress, and communicating with stakeholders.
Quality Management Systems (QMS). QMS is a set of quality policies, procedures, and processes to ensure the quality of construction projects. It includes quality planning, quality control, and quality assurance.
Environmental Management Systems (EMS). EMS is a set of policies and procedures to manage the environmental impact of a construction project. It includes environmental planning, environmental monitoring, and environmental reporting.
Occupational Health and Safety Management Systems (OHSMS).OHSMS is a set of policies, procedures, and processes for managing health and safety risks of construction projects. It includes risk assessment, hazard identification, and control measures.
Construction Site Management Plan (CSMP). A CSMP outlines the rules and procedures for managing a construction site. It includes safety protocols, emergency response plans, waste management plans, and other relevant information.
Construction Management Plan (CMP). A Construction Management Plan (CMP) is a document that serves as a blueprint for proposed building works. It outlines how the construction team should manage the project and mitigate any adverse effects on the local community during the work. The construction management plan typically includes measures to minimise disruption caused by noise, dust, traffic disruption, and other environmental issues.
These are just some of the many tools and systems used to assist in construction management. These resources help ensure construction projects are completed on time and within budget while meeting safety, legal, and environmental standards.
Construction Management Plans vs. Construction Site Management Plans
A Construction Management Plan (CMP) and a Construction Site Management Plan (CSMP) are separate documents. A construction management plan outlines the project's management, including organisation, personnel, procedures, and protocols. It serves as a guide for how the construction team should manage the project.
On the other hand, a CSMP addresses how the construction process and site will be managed, including safety, environmental management, and coordination between contractors. Although there may be some overlap between the two plans, they are separate documents with unique purposes.
Purpose of a Construction Site Management Plan
A CSMP aims to ensure site security and safe work by identifying potential hazards and safety risks. Moreover, CSMPs will:
Guide safety protocols and emergency response procedures: It provides safety protocols and procedures to protect workers, visitors, and the local community.
Minimise environmental impact: It outlines measures to reduce potential environmental hazards and comply with local regulations.
Coordinate contractors: It helps to ensure that everyone in the project is on the same page and working toward the same goals.
Construction management plans and site management plans are not static documents. They should be updated regularly to reflect changes in regulations, permit amount, construction team composition, and the project scope.
Duties, Regulations, and Legislation
Induction Training Card (White Card)
One crucial requirement for workers on a construction site is a white card before they can begin working on a project. Workers can obtain it by completing the training course "Prepare to work safely in the construction industry." Workers must show their white card to the PCBUs (Persons Conducting a Business or Undertaking) on the site and any inspectors who request it. These cards are recognised Australia-wide and are essential to ensuring safety on construction sites.
Principal Contractors
Each construction project must have a principal contractor responsible for the overall safety and management of the site. There can only be one principal contractor for a project at any given time, and a PCBU must approve this person.
The PCBU who commissions the construction project is the principal contractor unless they nominate another PCBU to take on the role for the project's duration. If another party is engaged to act as the principal contractor, the original PCBU must authorise them to manage or control the workplace. They should discharge their duties as the principal contractor.
Safe Work Method Statements (SWMS)
Safe work method statements are a must in high-risk construction work. A PCBU must prepare the SWMS before any high-risk construction work starts. SWMS should include details on how to complete the task safely and per regulations. It should also have the steps to be taken if an emergency occurs, such as a severe injury or evacuation.
WHS Management Plans
The importance of Work Health and Safety (WHS) management plans in Australia's construction industry cannot be overstressed. The Australian government has made it mandatory for construction projects valued at $250,000 or more to have a WHS management plan in place. This requirement has led to safer work environments, reduced accidents, and responsible growth within the industry.
A well-structured WHS management plan acts as a roadmap for managing risks throughout the lifecycle of a construction project. It encompasses a systematic approach to hazard identification, risk assessment, and the implementation of control measures. The principal contractor shoulders the responsibility of developing and updating the plan, ensuring it remains relevant and effective. Open communication and collaboration with all parties, including workers, subcontractors, and stakeholders, is essential for fostering a proactive safety culture and continuously improving work practices.
It is also important to note that a WHS management plan goes beyond risk management. It addresses critical aspects of construction safety, such as training and competency requirements, emergency response procedures, incident reporting and investigation processes, and monitoring the plan's effectiveness. Compliance with these guidelines enables construction companies to meet legal obligations and demonstrate their commitment to creating a safe and healthy workplace. In summary, a robust WHS management plan is a key element in enhancing the reputation and success of the construction industry in Australia.

Key Elements of a Construction Site Management Plan
Here are some key elements that every site must include in a CSMP:
1. Site Information or Project Scope
This section should provide a detailed description of the construction site, including its location, dimensions, and any adjacent properties. It should also include information about the construction type that will take place, such as the number of stories, building materials, and equipment used.
2. Project Timeline
This section should include the projected timeline and project details, beginning with the commencement of work and ending with project completion. It should also provide a detailed breakdown of when each project phase will be completed.
3. Health and Safety
Safety is of utmost importance on any construction site, and the CSMP should outline measures to ensure the safety of workers, visitors, and members of the public. This should include details about safety equipment and measures, emergency procedures, and training requirements.
4. Environmental Management
Construction sites can have a significant environmental impact, and the CSMP should address measures that will be taken to reduce this impact. This could include managing water and energy use, waste and hazardous materials, air and dust management and minimising damage to surrounding vegetation and wildlife.
5. Traffic Management
The CSMP should detail how site surrounding streets and construction-related traffic will be managed, including access to the site, parking arrangements, and any necessary road closures or diversions.
6. Quality Management
This section outlines the safety measures to ensure the work meets the project's quality standards and specifications. It encompasses the procedures that will be put in place to track, assess, and enhance quality performance and results. Quality management should comprise a quality plan, standards, controls, checks, tests, and records for the site.
7. Monitoring and Reporting
The CSMP should provide details about how the site will monitor and report the project's progress to stakeholders, including local authorities and the public.
Simplifying Construction Management with SafetyDocs
When developing a construction site management plan, it is essential to remember these elements to ensure that the project meets all applicable regulations and standards. SafetyDocs by SafetyCulture has a range of safety documents, including Construction Site Management Plans to help simplify creating construction management systems. Our documents provide comprehensive guidance on implementing risk management processes and procedures to manage a construction site effectively.
With SafetyDocs, you can easily create and customise documents to fit your needs. Our templates make developing a safety culture easy in any construction project. Check out these documents for your construction management:
Start simplifying your construction site management today with SafetyDocs. Get easy access to a range of documents, forms, and checklists. Contact us to get started.
---
Our team of experts is dedicated to providing accurate and informative content. Craig Cruickshank, our senior HSEQ advisor at SafetyDocs by SafetyCulture has reviewed this blog post to ensure the highest level of quality.
Learn more about Craig's work on LinkedIn for more industry insights.
Available for instant download and supplied in fully editable MS Word format for use in your business.
Please note that the above information is provided as a comment only and should not be relied on as professional, legal or financial advice.
Share This Article